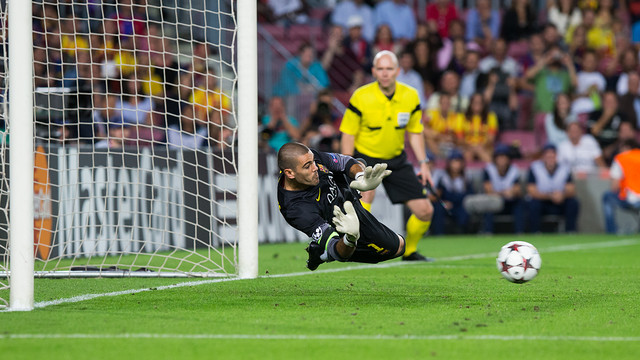 He made his first penalty save in the 2003/04 season at Balaídos, against Celta's Peter Luccin
Víctor Valdés is considered one of the best goalkeepers in the world right now. He is best known for his interventions during open play, but he also knows how to stop penalties.
Wednesday's stop against Sigthorsson (Ajax) was the tenth time that Valdés has saved a spot-kick since joining the Barça first team. His first was in 2004 at Balaídos against Celta Vigo.
Here we list all ten penalty saves by Valdés, and also the unfortunate takers:
1. May 8, 2004, against Peter Luccin (Celta 1-0 FCB)
2. February 19, 2005, against Luis García (FCB 2-0 Mallorca)
3. November 4, 2006, against Eatoyanoff (Deportivo 1-1 FCB)
4. February 11, 2007, against Garay (FCB 2-0 R Santander)
5. April 15, 2007, against Jonás Gutiérrez (FCB 1-0 Mallorca)
6. March 29, 2008, against Edú (Betis 3-2 FCB)
7. August 29, 2010, against Tchité (Racing 0-3 FCB)
8. April 7, 2012, against Aranda (Zaragoza 1-1 FCB)
9. November 25, 2012, against Barkero (Levante 0-4 FCB)
10. September 18, 2013, against Sigthorsson (FCB 4-0 Ajax)