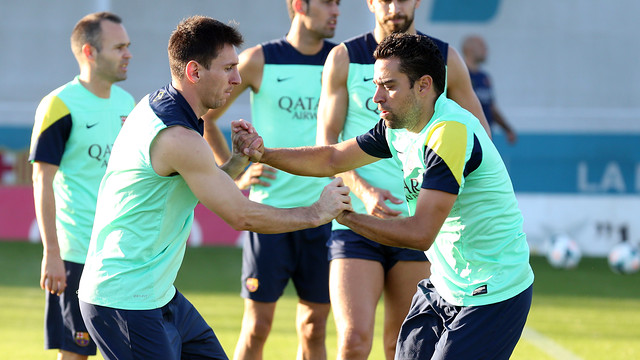 Carles Puyol joined the first training session since the win over Real Sociedad
As well as the B team, the session also involved Roger Riera, Julen Arellano, Adrià Vilanova and Dani Segura from the U18 and U17 teams
Alves and Neymar picked for Brazil
Both Alves and Neymar have been named by Luiz Felipe Scolari in his squad for Brazil's two forthcoming friendlies against Zambia (October 12) and South Korea (October 15). Former Barça man Maxwell has also been included.
The FC Barcelona players trained on Thursday for the first time since the impressive 4-1 win against Real Sociedad. The venue was pitch 1 at the Ciutat Esportiva de Sant Joan Despí, where they were joined by the Barça B squad and U18 and U17 players Roger Riera, Julen Arellano, Dani Segura and Adrià Vilanova, son of Tito, the former first team manager. Carles Puyol was also present.
Training and flight on Friday
The session, which ended with a training match, will be followed by another one on Friday evening at 17.00, immediately after Tata Martino has finished giving a press conference in the build-up to the Almeria match.
After training, the team will be flying to Andalusia, where they are due to land at around 21.00. Saturday's match kicks off at 18.00.
Captain Carles Puyol, who was involved in the whole session, posted a photo of his boots once it was over, in memory of Miki Roqué, a player and close friend of his who died in 2012.