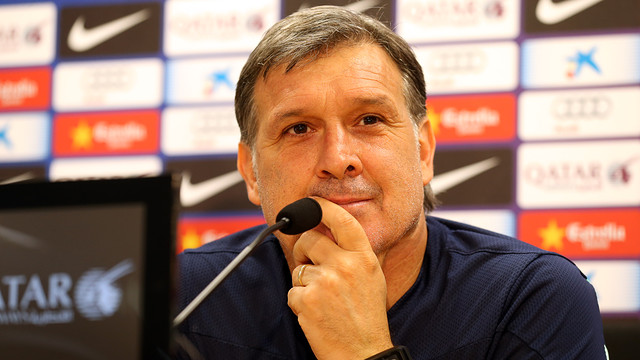 The manager is happy with the time he has had to prepare this week, saying that "the international games are no excuse for not performing to our best against Sevilla"
"We are excited about the Champions League, but we have to be careful about every single league match" he added
Tata Martino is using all five senses in his preparations for the league match at home to Sevilla and doesn't think this week's internationals or the start of the Champions League on Wednesday should affect them. "We are excited about the Champions League, but we also have to be careful about every single league match" he said. "You have to be careful about everything in all 38 games to make sure you don't allow any advantages … and the international games are no excuse for not performing to our best against Sevilla".
The manager is happy with the condition of the players that have returned from international duty, although he has decided to give Pedro a rest because "we have to think about how much the players have been playing and Pedro worked very hard against Chile". As for Neymar and Messi, the duo that travelled the furthest this week, Martino commented that "we'll see how they're feeling on Saturday and decide whether they are fit enough to play the whole match or not".
"There haven't been any setbacks and we have had time to prepare for the game with Sevilla" he continued. "I hope we can play as well as we did in the first half against Valencia, which was the best we have performed so far this season". But he expects the game to be "difficult, as always against teams coached by Emery … He has sometimes brought teams here to defend, and at other times he has put on pressure. We have to be ready for both situations."
Carles Puyol was able to join some of today's training session, and that is of course good news for Martino because "it means we'll have the third centre back that so many people are talking about, and it also means the team will get its captain back. He was happy to have been able to train with the team for the first time. I'm sure we'll get him working harder next week and after the Real Sociedad game we should be able to start arranging more formal training for him".
Tata Martino also spoke about other issues affecting the club at the moment, and particularly wished to point out that Piqué's comments about the team's style of play were taken out of context. "He didn't say anything bad" insisted the FCB boss. "He is delighted that we play this way. But opponents are taking note of the way Barça play and we have to come up with alternatives".
He also commented on the tough tackling that Neymar is being subjected to, saying that "when Neymar takes a knock, he has to get up, put the ball on the ground and carry on playing. That's all." And in reference to Messi he said "we have not made any request to the Argentinian federation for him not to be called up, he always wants to play for his country."
The international games are no excuse for not performing to our best against Sevilla
The team will be getting its captain back