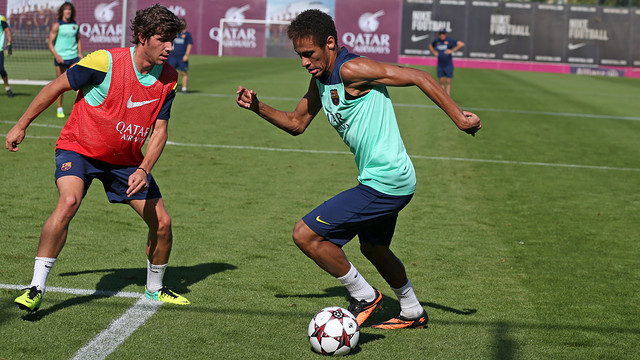 Puyol trained with the group while Isaac Cuenca exercised separately
Youth squad players Corredera, Pedro and Theo joined the session
Tata Martino will announce his squad for the Celtic game this evening after the final whistle of the Barça B match, as he intends to include one or two reserves in his squad.

Third kit premiers in Glasgow
The players will wear the new, all black third kit for the first time this season against Celtic.
On Sunday morning, training was a two-speed affair with Saturday's team concentrated on recovery work while the rest of the Barça squad trained at a higher pace with the focus very much on Tuesday's Champions League visit to Celtic.
Club captain Carles Puyol trained with the group but Isaac Cuenca exercised separately. Youth team players Alexandre Corredera, Pedro Javier Godoy and Theo Chendri were included in the session.
Tata Martino will unveil his squad list later this evening after the Barça B match against Mallorca. The manager has 19 first team players available to him but intends to add one or two players from the reserves.
The team will leave for Glasgow on Monday morning and train that afternoon in Celtic Park (7 pm, local time). Before training, Tata Martino and Cesc Fàbregas will give press conferences (6.15 h, local time).