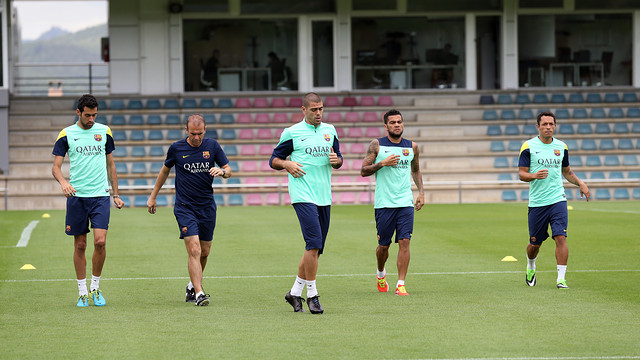 Carles Puyol joined part of the session while Piqué did physiotherapy after straining his groin against Ajax
Valero Rivera and Qatar national team
Barça's former handball coach, and currently manager of the Qatar national team, Valero Rivera, attended this morning's training session at the Ciutat Esportiva along with the members of the Qatari team, who are currently in Barcelona on a training camp.
Jorge Pautasso took the first team training session today in the absence of Tata Martino, who has travelled to Argentina to attend his father's funeral. The focus of the session was on recovery from the previous night's exertions against Ajax. Gerard Piqué, who was in the starting elven, has a groin strain and did physio work instead.
The rest of the team started putting their minds on Saturday's Liga fixture against Rayo Vallecano (20.00). Carles Puyol was once again able to join in with some of the exercises, while Jordi Alba, who was injured against Sevilla, also did recovery work.