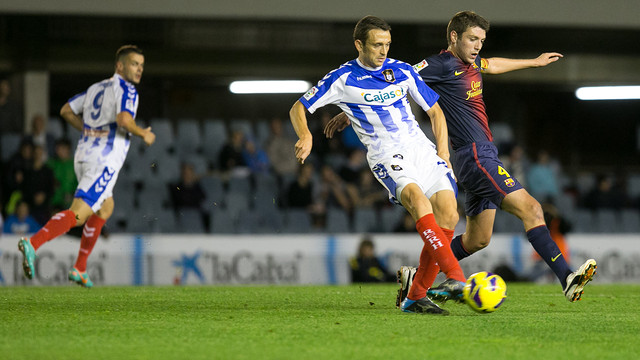 Barça B could go top of the Liga Adelante on Friday night (21.00) with a win over Recreativo at the Nuevo Colombino
Both teams go into a potentially cracking game with ten points each
Barça B and Recreativo meet on Friday night (21.00, Esport3) at the Nuevo Colombino. Both sides have started the season well and are currently tied on ten points each, one behind Sporting Gijón, so tonight's winner will be the provisional leader of the Liga Adelante ahead of the weekend.
Both sides have three wins and a draw behind them. The oldest club in Spanish football has four points from its two home fixtures to date, while Barça B's travels have produced a draw at Tenerife (2-2) and defeat at Mirandés (2-1), despite some great moments of football. It has been at the Mini where the reserve team have been performing best this year, with three wins out of three.
Last week Barça B got an important win against Real Madrid Castilla while Recreativo won 3-0 at then leaders Mirandès.
Tricky opponent
This will be no easy fixture for the side managed by Eusebio Sacristán. The Andalusians are highly motivated by the chance to return to the top flight, and already showed last season just what a difficult opponent they can be, winning both of their encounters with Barça B, 3-2 at the Mini and 2-0 at the Nuevo Colombino.
Sergi Barjuan, familiar face
Former FCB defender Sergi Barjuan is in charge at Recreativo for the second season, and as Eusebio said in his pre-match press conference, "we're up against a good team. Sergi has done a great job over the last year and team has learned to play his way. Recre are on a high after a good start to the league, so it'll be a tough match for us, but we're ready to cope with it."