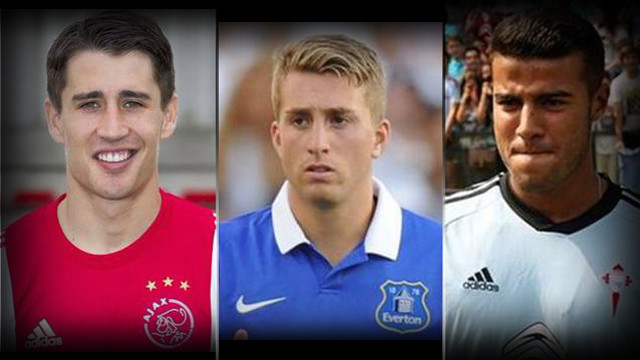 The three players on loan to Ajax, Everton and Celta, respectively, have all had good starts to the 2013/14 season
Bojan won the Dutch Super Cup with Ajax, Rafinha and Deulofeu have both scored for their respective teams
Bjoan Krkic, Gerard Deulofeu and Rafa Alcántara were loaned out to different teams this summer with the objective of getting the youngsters top flight football experience. After nearly a month since the start of the season, the performance of the three players has been fairly positive. Playing for Ajax, Everton and Celta, the three footballers are starting to become important players for their respective managers.
Rafinha, Luis Enrique's goalscorer
The youngest Alcántara brother has shown that he's ready for top flight football. The first team coaching staff came to the conclusion that the best decision was to send the player out on loan for a year, and off to Celta he went. Under the tutelage of Luis Enrique, who trained Rafinha in Barça B, the player has had a great start to the season.
Buenas tardes gente , muy muy feliz por haber realizado un sueño más debutar en primera división. Gracias por todos los mensajes de apoyo

— Rafinha Alcantara (@rafinha_alc93) August 21, 2013
The Brazilian was named to the starting line-up for the first time this weekend against Granada at Balaídos. Rafinha scored the opener against Granada, but the match ended in a draw.
Bojan wins his first title in the Netherlands
The Catalan forward, who spent the last two seasons in Italy, was sent out on loan to Ajax. It's worth noting that the Dutch team will face off against Barça in the Group Stage of the Champions League this season. Since the start of the year, Bojan has become a crucial player for manager Frank De Boer.
Last week Ajax claimed the Dutch Super Cup after beating AZ Alkmaar by 2 to 3. The Catalan started the match, but even though he didn't score, he was one of the best players on the pitch. The Dutch team will now focus on defending the league title they've won the last three consecutive seasons.
Deulofeu scores, gets his first minutes in the Premier League
Gerard Deulofeu joined Everton on loan this summer. The Catalan was given the team's No10 kit, and it soon became evident that the player will play an important role for the British team. He didn't feature in Everton's opening two Premier League matches, but he did get playing time in the League Cup. He started the match and he scored the equaliser for Everton. Balaguer Robert Martínez's men went on to win the match.
Very happy! My first goal in Everton!!! pic.twitter.com/nzwiCwvBpN

— Gerard Deulofeu (@gerardeulofeu) August 28, 2013
A couple of days later, August 31, the quick forward made his Premier League debut. He came on in the final minutes of the match against Cardiff City. Even though the match ended in a 0-0 draw, Deulofeu created chances in the few minutes he was given. Martínez declared that the Catalan will get more playing time as the season progresses.