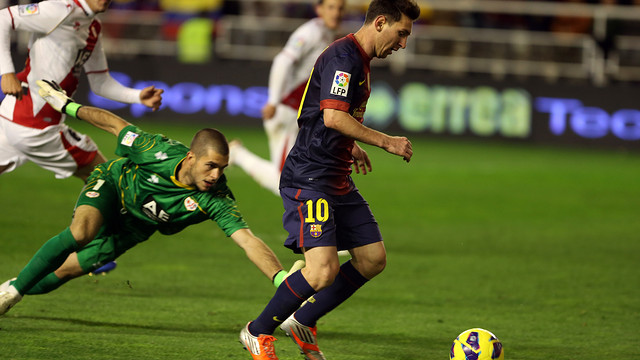 FC Barcelona have cruised to wins in their last two trips to Rayo, but before that they went four games without a win
Paco Jémez has five former FCB players in his squad: Rubén, 'Rodri', Baena, Trashorras and the injured Iago Falqué

The two most recent trips to Vallecas have produced dramatic Barça wins, 7-0 in the 2011/12 season and 5-0 in 2012/13, mainly thanks to Barça punishing Rayo for their ambitious but risky tactics. But games have not always gone quite so well for the Catalans at Vallecas.
Years of disappointment
Barça struggled away to Rayo in the latter's previous spell in the top flight. In fact, they went four games in a row without winning at Vallecas. They lost in 2002/03 (1-0) and 2001/02 (2-1) and drew in 2000/01 (2-2) and 1999/00 (1-1).
Before those games FC Barcelona had won three, drawn four and lost once away to Rayo.
Five familiar faces
The current Rayo team plays a very similar kind of football to Barça and that has much to do with the presence of no fewer than five former Barça players in the squad. These are goalkeeper Rubén Martínez, defender 'Rodri', centre half Baena and the duo of Galician midfielders, Trashorras and Iago Falqué, who is injured. Trashorras is probably the important of these to the team. There was another former FCB player in the side last season, full back Casado, who is currently without a club.