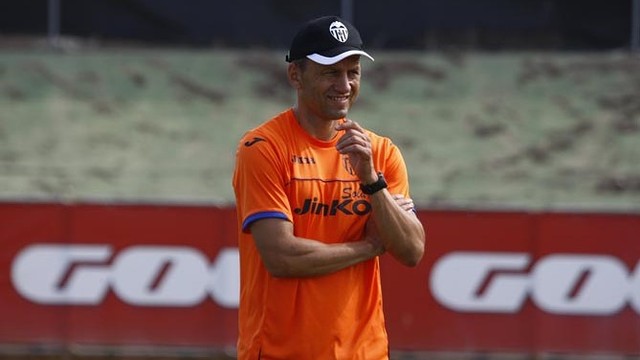 The former Serbian international made eleven appearances against Barça as a Valencia player, winning and losing five and drawing just the once
In 1994, he missed a penalty to hand the fourth consecutive league title to FC Barcelona and the 'Dream Team'

Miroslav Djukic has never donned a Barça shirt but many fans have a special place in their hearts for the man who was unlucky enough to miss a vital penalty and clear the way for the Dream Team to take their fourth consecutive league title. On 14th May 1994, Barça – who trailed Deportivo by two points in a two-way fight for the league title – put themselves in the hunt with a 5-2 victory over a Sevilla side managed by Luis Aragonés and featuring Unzué, Soler, Suker and Simeone (goals from Stoitchkov (2), Romario, Laudrup and Bakero­).
Deportivo de la Corunya had an inferior goal difference so needed a win at all costs. They were up against Valencia, managed by Guus Hiddink and boasting the likes of Quique Sánchez Flores, Mendieta and Mijatovic. In the 89th minute, the referee awarded a penalty to Deportivo to put the Galician club within a minute of their first league title. Djukic stepped up to take responsibility but his effort was saved by González – causing an explosion of celebrations in the Camp Nou – and the league title went back to Barcelona.
A good record as a Valencia player
In 1997, Djukic moved from Deportivo to Valencia, staying there for six years. The defender made eleven appearances for Valencia against FC Barcelona, enjoying the relative success of five wins and a draw, and five defeats.
He received two yellow cards, and only came off the bench once, in the match between Barça and Valencia in the 2001-02 season. The game ended in dramatic fashion with a great goal from Rivaldo, a pitch invasion and FC Barcelona snatching the last Champions League place from the hands of Valencia.
Second season in the top flight
Djukic brought the curtain down on his playing career at Tenerife in 2004. He moved quickly into management, taking charge of his first Spanish club in 2010-11 but was unable to save Hércules from relegation. He then took Valladolid up from the second into the first division, and along the way won his two matches against Barça reserves (1-0 in Valladolid and 1-2 in the Miniestadi).
However, Djukic the manager is yet to taste victory against FC Barcelona in the first division. Last season, Barça won 1-3 in the Zorrilla stadium and 2-1 in the Camp Nou. Now, in his second season as a first division manager, Djukic has got another chance seize his first win.