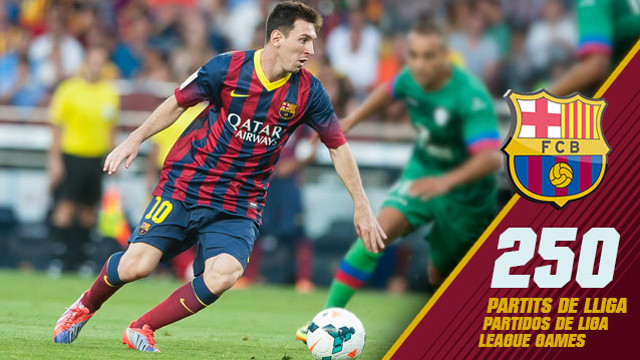 The Argentinian reached this landmark after nine seasons at Barça
In 249 league outings he has scored 221 goals, has started 212 times and has never been red carded
The seasons go by and Leo Messi continues to add to add milestones to his career. This Saturday's match against Rayo Vallecano (20.00, Canal + Liga / GolT) will be very special for the Argentinian, for it will be his 250th for the first team. After making his debut on October 16 of 2004 in Montjuïc, against Espanyol (0-1), Messi will celebrate this new feat at Vallecas that only few footballers can aspire to.
MESSI PROFILE
212 starts
In his ninth season with the first team, the Argentinian has played 249 matches, and started all but 37 of them. And he's managed to score an average of almost a goal a game. In those 249 outings, the man considered by many to be the greatest player ever has hit the target 221 times.
In 2011/12 he scored an astonishing 50 league goals, and went even better last term with 54. Messi was also the top goalscorer in 2009/10 with 34 goals. In the 19,372 minutes he's played, he's only been booked 37 times and has never been sent off.
Positive start
Messi missed the last three games at the end of the least season, but has come back fresh as a daisy. He's scored in all three games he's played (he sat out the Malaga match), with two against Levante, a hat-trick at Mestalla and another goal last week against Sevilla – not to mention his midweek hat-trick against Ajax in the Champions League.