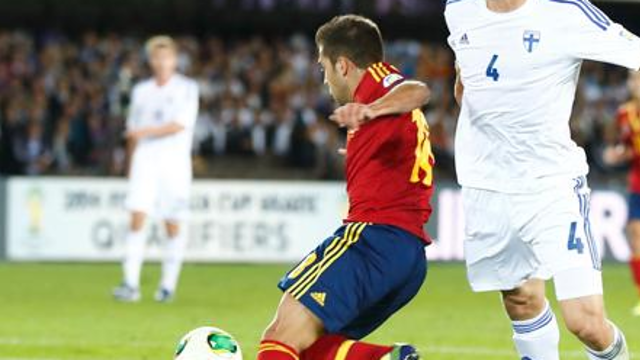 Barça's left back scored Spain's first goal in the World Cup qualifier against Finland
Up to five FC Barcelona players featured in the starting line-up: Jordi Alba, Xavi, Iniesta, Cesc and Pedro
Babunski doesn't play for Macedonia
Macedonia defeated Wales by 2 to 1 this evening. The Barça B player David Babunski, however, watched the match from the bench.
Spain won its World Cup qualifier this Friday evening against Finland by 0-2. The home team had taken a point off of Spain in the first encounter between the two sides. This time, however, the team managed by Vicente Del Bosque were able to overcome the Nordic national team. Jordi Alba and Cesc linked up for the first goal of the game in the first half, while Manchester City's Negredo doubled Spain's lead in the second half.
The Alba-Cesc connection
On 19 minutes, an excellent pass from Cesc was controlled by Jordi Alba, who went on to fire to the back of the net. The 0-1 was on the scoreboard until nearly the end of the match, until Negredo scored Spain's second. Five Barça players featured in the starting line-up: Alba, Xavi, Iniesta, Cesc and Pedro. Valdés, however, watched the match from the bench. Cesc was brought off on the 70th minute, and Pedro followed his team-mate to the bench 10 minutes later.
Spain's victory, combined with France's surprising draw with Georgia (0-0), means that Del Bosque have a three-point advantage over France atop Group I.