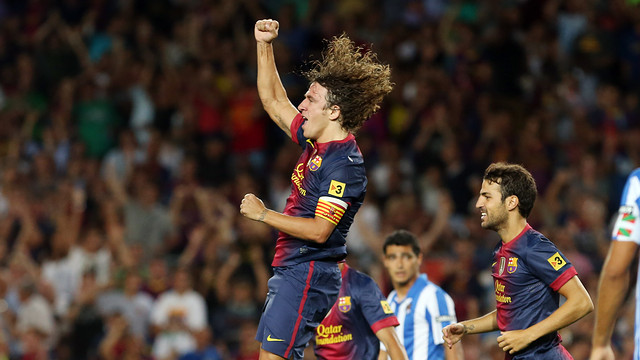 FC Barcelona have won all 15 of their last games at home to Real Sociedad and overall have 56 wins in 66 editions of this sfixture
Jagoba Arrasate will be bringing his side to the Camp Nou on Tuesday in the hope of defying history
The last ten wins
2000/01 FCB – RSO (3-0)
2001/02 FCB – RSO (2-0)
2002/03 FCB – RSO (2-1)
2003/04 FCB – RSO (1-0)
2004/05 FCB – RSO (1-0)
2005/06 FCB – RSO (5-0)
2006/07 FCB – RSO (1-0)
2010/11 FCB – RSO (5-0)
2011/12 FCB – RSO (2-1)
2012/13 FCB – RSO (5-1)
From 1928/29, at Les Corts, to 2012/13, at the Camp Nou, FC Barcelona and Real Sociedad have met in 66 league matches in Catalonia. And the home side have an impressive record, winning no fewer than 56 of those matches, with seven draws and just three wins for the side from San Sebastian. Their last win came on May 18, 1991, when Aldrige (2) and Atkinson sparked celebrations in the Basque Country (1-3).
Barça are currently on a magnificent 15 match winning streak at home to 'La Real'. Last term under Tito Vilanova, they won thanks to goals from Puyol, Messi (2), Pedro and Villa, with a consolation effort for the visitors converted by Chory Castro.
Champions League opponent
The side coached by Jagoba Arrasate will be at the Camp Nou on Tuesday (20.00) looking to change history. This season, they are coming as a Champions League club, although their campaign got off to a sorry start with 2-0 defeat at home to Shakhtar Donetsk. In La Liga, they have just one win, three draws and one defeat.