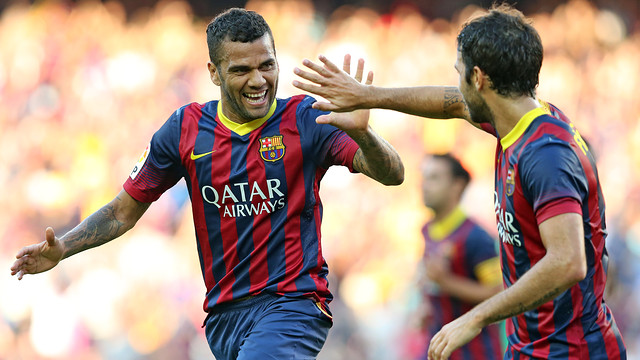 Barça are looking to make it 12 out of 12 in La Liga against Sevilla at the Camp Nou (20.00, GolT) after the international break
Busquets has been declared fit and Xavi and Alexis return, but Pedro is being rested
Barça are back after a two-week break for their first game since winning 3-2 at Mestalla against Valencia, the third win out of three for Tata Martino in La Liga. Next up it's Sevilla at the Camp Nou (20.00) after a fortnight in which eleven of the first team have been away on international duty. But none of them have come back with injuries and there are high hopes for the league leaders against a Sevilla team that so far only have two points in their account.
Barça have a busy schedule ahead, with six games in just eighteen days. That hectic fortnight begins against Sevilla, just days before the Champions League opens with a home match against Dutch champions Ajax.
Changes to the squad
Tata Martino has been getting plenty of good news about his players recently. On Friday, Sergio Busquets was given medical clearance to play after pulling a thigh muscle against Valencia. The midfielder didn't travel to join the Spain squad and has instead spent his time recovering in Barcelona – and could make his return on Saturday night.
Alexis and Xavi also return to the side after being rested against Valencia, but after working hard for Spain this week, Pedro is going to be rested as Martino keeps his promise about rotating his players. Defender and captain Carles Puyol is still out, although there are signs that he'll fit enough to return to duty very shortly. "The team needs its captain back and we'll also get the third centre back people want so badly" said the manager in his pre-match press conference.
Reasons to be cheerful
A look at Sevilla's recent results at the Camp Nou makes for encouraging viewing for Barça fans. The Andalusians have lost on four of their last five trips to the Catalan capital, the other game ending 0-0, and have only scored one goal while conceding a mighty fifteen.
And Sevilla are managed by Unai Emery, who has visited the Camp Nou eight times before and lost every time. The Basque coach has been here as boss of Almeria, Valencia, Spartak Moscow and Sevilla and has only amassed a total of three goals, while his sides have let in twenty.