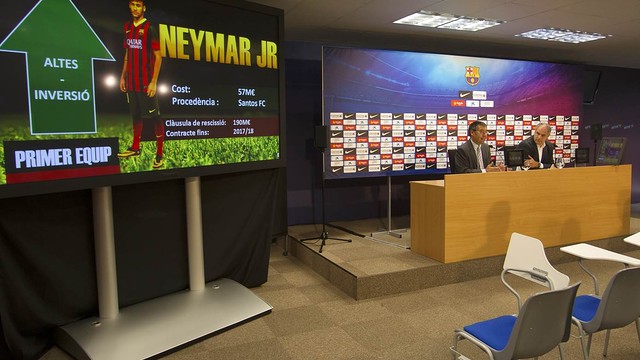 The vice president for sport and the director of football have reviewed events over the last few months
The vice president for sport, Josep Maria Bartomeu, and the director of football, Andoni Zubizarreta, have spoken to the press today about the football-related goings-on at the club this summer. Here we pick out ten key comments.
1. Bartomeu: "For the second year in a row we have spent less than our budget for new players".
---
2. Bartomeu: "Rafinha, Bojan and Deulofeu can all grow professionally. I think they can mature as players away from the Camp Nou".
---
3. Bartomeu: "The agreement for Villa's transfer included preferential rights to two young Atletico Madrid players".
---
4. Zubizarreta: "Barça players are not gambles. If they are at Barça it is because they have a proven track record. If Bartra is in the squad, it's because was we need him".
---
5. Zubizarreta: "I congratulate Tata Martino for being so flexible throughout all of this. We are learning to surf on the most difficult wave ever known. Tata has been extraordinarily willing".
---
6. Zubizarreta: "I was a goalkeeper and I know how strangely we get treated. I still have the number one on my back".
---
7. Zubizarreta: "The door is open for Tito to do what he thinks best. But right now, we should leave him alone because what matters most is his health".
---
8. Zubizarreta: "Puyol has been through a tough patch but he's in fine form right now. We're reasonably optimistic".
---
9. Zubizarreta: "Most of the players here never got a splendid presentation. They just came up from Barça B, like Sergi Roberto".
---