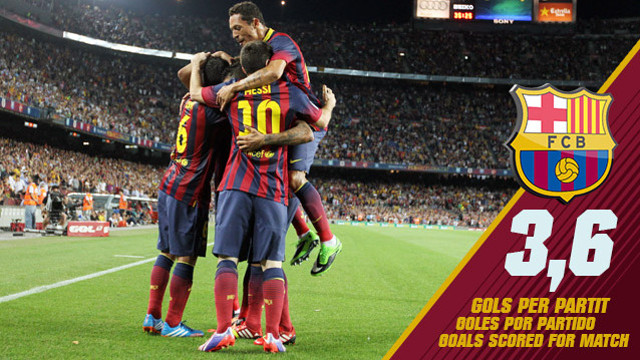 FC Barcelona have scored 22 goals in six games, an average of 3.6 a match, better than the 3.25 registered by Inter Milan and Anderlecht
Barça have got off to the perfect start in La Liga, with 18 points out of a possible 18. That equals the best ever start to a campaign by FC Barcelona, the same record as that of the team under Tito Vilanova last season, when they scored 17 goals and conceded five. In 2013/14, Valdés has let in the same number of goals, but Barça have been even more lethal in attack with 22 goals, for an average of 3.6 a game that no other team in Europe can claim to have bettered.
Seven goals against Levante, one against Malaga, three against Valencia and Sevilla and four more against each of Rayo and Real Sociedad make up the total of 22.
Other European leagues
Belgian club Anderlecht is the only side to have scored more than FCB, but they have got their 26 goals in eight matches, two more than Barça, to average 'just' 3.25 a game. After six games, the Belgians had netted 21 goals, one less than Barcelona.
Like Anderlecht, Inter Milan also have an average of 3.25 goals a game, but that is thanks to scoring 13 goals in four outings. The other top scoring clubs around Europe are Heerenveen of Holland (19 goals in seven matches and an average of 2.71), Borussia Dortmund of Germany (16 goals in six matches and an average of 2.6), Sporting Lisbon (13 goals in five games and an average of 2.6) and Monaco of France (13 goals in seven games and an average of 1.85). The top scoring side in the Premier League is Manchester City, with 12 goals in five games (an average of 2.4).