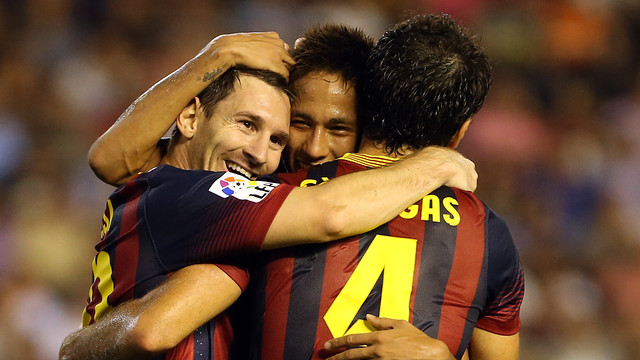 Going into the first international break, Barça have won every Liga game so far and also won the Spanish Supercup
Messi is the league's top scorer with five goals
Barça have three wins out of three in La Liga. They top the table on goal difference, and have already won the first major title of the season. Gerardo Tata Martino could not have wished for a better start to his first season at the club, with two of the league wins coming on the road.
Full marks
As the league takes its first international break, Barça can feel satisfied to have already seen off Levante, Malaga and Valencia, three traditionally tricky opponents, to take all nine of the first points on offer.
With an 11-2 goal difference, Martino can boast the best ever start for a new FCB manager in La Liga. Rexach had the previous record, a 9-0 difference, followed by César with 11-3 and Venables with an 8-0 start.
Messi on top
Leo Messi got three goals on Sunday in Mestalla to put him top of the league scoring chart. That's especially impressive considering he didn't even play against Malaga. That was the player's 23rd hat-trick for FC Barcelona and the 26th of his career, if we also include his three for Argentina.
At Mestalla, Messi was also able to emulate Stoichkov (1991) and Romario (1993) by scoring a hat trick in the first half, while also breaking Hugo Sànchez's record of 100 away goals. What's more, he overtook Quini to become the sixth highest goalscorer in Liga history with 220.
Supercup starring Neymar and Valdés
But there has been additional joy thanks to the Spanish Supercup victory against Atletico Madrid. Neymar and Valdés were the stars of the show. The Brazilian came on to grab the equaliser at the Calderón (1-1) and the FCB goalkeeper was in amazing form at the Camp Nou (0-0) as the team claimed the title for the eleventh time.