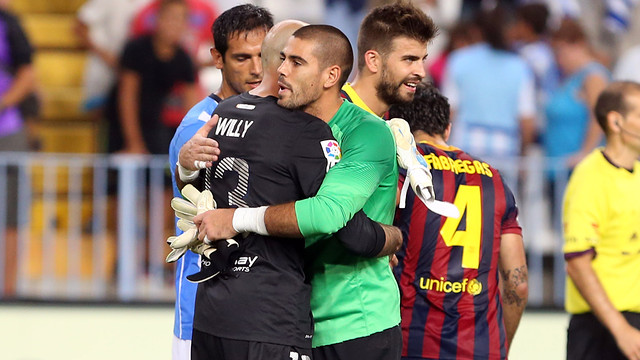 Valdés is unbeaten in Barça's first two league games. Last season, the keeper was only able to keep to consecutive clean sheets on one ocassion
Adriano's strike means seven different players have scored so far this season

Barça won their second league game of the season with the 0-1 win over Malaga – a game that provided plenty of interesting facts and figures.
• Valdés, Piqué, Mascherano, Xavi, Alexis and Pedro are the six players to have started all three of the team's opening matches.
• Of those six, only Valdés, Piqué and Mascherano have played 90 minutes in each game.
• Valdés has not conceded a goal in the first two league games, something he only managed once last season, in weeks 31 and 32. The team also kept a clean sheet in week 30, but Pinto stood in for the Spanish keeper for that game.
• Valdés was only called upon to make two saves against Malaga – two saves that ensured the three points.
• Mascherano and Alba recovered most possession for the team with 10 interventions each.
• Sergi Roberto played his first league minutes under Gerardo 'Tata' Martino when he came on as a second half sub.
• Adriano's goal means that seven different players have scored for Barça so far this season: Messi (2), Pedro (2), Xavi, Alves, Alexis and Adriano in the league and Neymar in the Supercup.
• Alexis and Alves both picked up their first yellow cards of the campaign. Neymar also has a booking to his name.
• This Sunday's win was Barça's seventh on the trot at La Rosaleda – six in the league and one in the Spanish Cup.