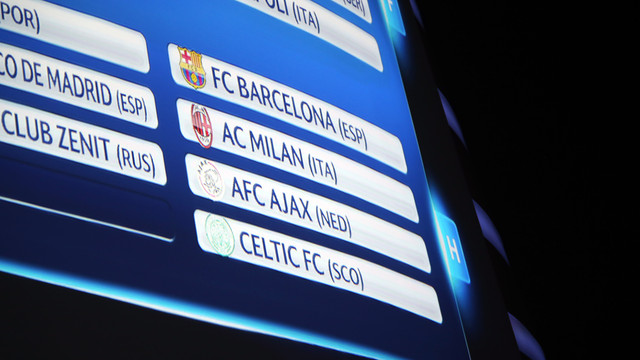 Milan, Ajax and Celtic, all European champions, will face off against Barça in the group stage of the 2013/14 edition of the Champions League
Milan have won the competition seven times, Ajax have been champions four times and Celtic won the competition in 1967. The teams in Group H have won a total of 16 European Cup titles
The Champions League Group Stage draw took place this Thursday afternoon in Monaco. The draw dropped Barça in the middle of a group full of European champions. Group H is made up of FC Barcelona, AC Milan, Ajax and Celtic Glasgow, teams that have won a total of 16 continental crowns between them.
Milan, the collector of Champions League trophies
The group stage will bring us a classic European showdown. The team managed by Tata Martino will face off against AC Milan, a team that have won seven European Cup titles. The teams have featured against each other 17 times, with a record of 7 Barça victories, 5 draws and 5 Milan victories. We don't have to go too far to find the most recent match between Catalans and Italians. On Match 12 of 2013 the Camp Nou witnessed a night that will be difficult to forget.
In the Round of 8 of the Champions League, Barça needed to fight back from a 2-0 deficit from the first leg of the tie against Milan. The Blaugrana fired for four unanswered goals against the Rossoneri in the second leg and thus clinched a spot in the quarter-finals of the competition.
But that wasn't the only time Barça took on AC Milan in the continental competition. The first time was in the 1959/60 season, also in the Round of 8. On that occasion, Barça defeated Milan by 5 to 1 at the Camp Nou and sealed the deal at the San Siro two weeks later by 0 to 2. Barça's track record against AC Milan isn't all rosy, however. In the 1994 final in Athens, Milan thrashed Johan Cruyff's FC Barcelona by 4 to 0 to claim the title.
Ajax, a new rival but not unknown
Alax and FC Barcelona have never faced off in an official competition. The Dutch team, however, are also a classic team in the European competition. The team managed by the former Barça player, Frank De Boer, have won the Champions League four times. The first time they won it was in 1971, and their most recent successful bid for the European crown was in 1995.
Also, we mustn't forget that Bojan Krkic currently features for Ajax. It's worth noting that last season Bojan featured against Barça at the Camp Nou while wearing the AC Milan strip.
Second consecutive year against Celtic
Barça's third rival in the group stage is well known to Tata's men. Last season the two teams were paired up in Group G together. The first game played between the sides ended with a 2-1 scoreline favourable to Barça, the second match, at Celtic Park, ended in the same result but for the Scottish team. Celtic were led to the the European Cup title in 1967 by Jock Stein. Three seasons later, the Scots finished second in the competition.