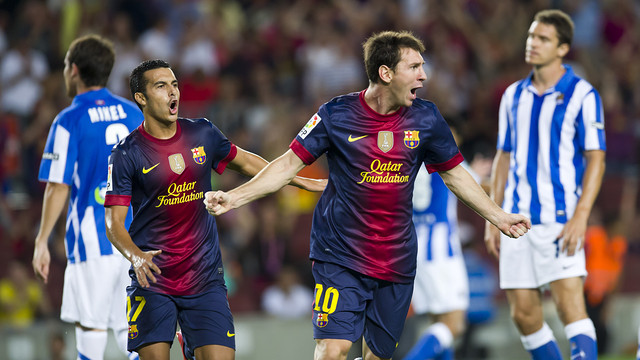 FC Barcelona have won 14 of their last 20 Liga openers
The 2013/14 campaign starts on Sunday at home Levante in the Camp Nou (C+ Liga – GolT – C+ Liga HD, 19.00)
Opening Liga matches at Camp Nou of last 20 years
2012/13 FCB 5 – Reial Sociedad 1
2009/2010 FCB 3 – Sporting Gijon 0
2002/2003 FCB 2 – Atlatico Madrid 2
2000/2001 FCB 2 – Malaga 1
1999/2000 FCB 2 – Zaragoza 0
1997/1998 FCB 3 – Reial Sociedad 0
1993/1994 FCB 3 – Reial Sociedad 0
FC Barcelona's Liga campaign begins this weekend, and having won 14 of their last 20 opening fixtures, there are plenty of reasons to feel confident that they'll get off to another positive start.
5 wins out 7 at home
FC Barcelona have started seven of the last Liga seasons at the Camp Nou, with an almost perfect record of six wins and just one draw in 2002 against Atlético Madrid in what was Víctor Valdés' debut match for the club.
Last season, in Tito Vilanova's first game in charge, Barça stormed to 5-1 victory against Real Sociedad. Puyol, Messi (2), Pedro and Villa got the goals that night.
1-0 in last game against Levante
Tata Martino's first official fixture at the helm of FC Barcelona will be at the Camp Nou against Levante. The last time the Valencia based side visited the stadium, in game 32 of last season, Cesc Fàbregas's goal in the 82nd minute split the sides to win three valuable points on course to Barça's 22nd Ligae title.