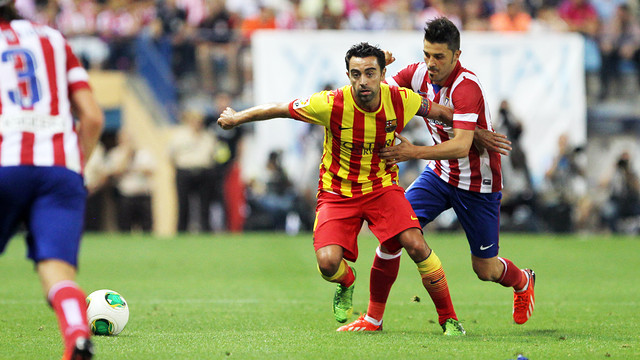 The first and second teams in La Liga will battle it out for the first title of the season
The 1-1 from the first leg at the Calderón means that the Super Cup tie is wide open
Leo Messi was named to the squad, while Adriano didn't recover in time for the match

It's the first big night at the Camp Nou of the year. Barça and Atlético Madrid will face off this evening (23.00, La 1 and TV3) in a decisive match that will decided the first champion of the season. The match will also be a good test for the top two teams in La Liga – the standings are somewhat anecdotal given that there have only been two matches so far this season. The game played a week ago at the Vicente Calderón ended in a one-all draw, which means that the title could go either way this evening.
Messi, OK
Tata Martino has named a total of 19 players to the squad, including Leo Messi, who was given the medical all-clear to play on Tuesday afternoon. However, Adriano Correia will miss the match (injured) as will Oier and Dos Santos, the latter two were not named to the team. Before the match the manager must cut one player from his 19-man squad.
Atlético, a real threat
Despite securing a good result at the Calderón, tonight's match will certainly not be easy for the Blaugrana. In fact, we're expecting 90 minutes of tense play between two evenly matched teams where small details could be enough to tip the scales in any team's favour. Atlético, who were impressive in their 1-3 victory over Sevilla and their 5-0 win over Rayo, come into tonight's match at the Camp Nou full of confidence. And they have David Villa. It's promising to be a night full of strong emotions.