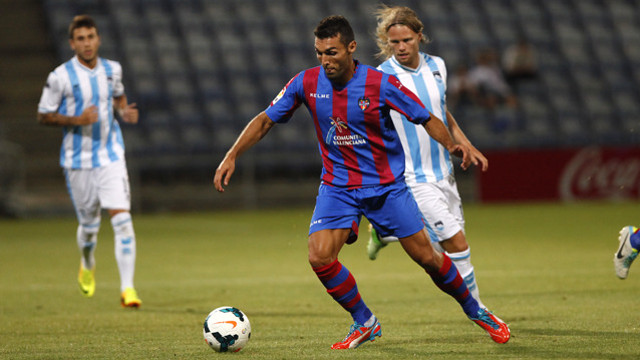 Joaquín Caparrós and his team have had a busy summer, playing eight matches, winning six of them and losing just one
Levante has lost Munúa, Míchel Herrero and Acquafresca but has brought in Barral, Nong and Xumetra, among others

The first la Liga opponent for Tata Martino's Barça is a new-look Levante side that will come to the Camp Nou after a busy summer. The main change has been on the manager's bench where the experienced Joaquín Caparrós has taken over from Juan Ignacio Martínez at the Ciutat de Valencia stadium.
A good pre-season
Caparrós has enjoyed a decent pre-season campaign at Levante with run-outs against both Spanish and foreign opposition. The Valencia-based outfit began the summer with wins against San Roque (0-2) and Ayamonte (0-3) followed by a goalless draw against Second Division Cordoba.
Levante then travelled to Portugal to take on Benfica in what was probably their toughest friendly of the summer, narrowly losing 2-1. Despite the defeat, Levante put in a good performance and at one stage led on the scoreboard. A penalty in time added on prevented Levante from taking away the draw.
In August, Levante has enjoyed a series of victories. In their official presentation before the fans, they beat Hellas Verona 2-1, both goals coming from free kicks. They had a comfortable win against Terol (0-6) before winning the Trofeo Colombino – one of the classics of the Spanish summer programme – thanks to wins against Olhaenense (1- 2) and Italian side Pescara (2 -0).
A tough team to beat
In recent years, Levante has forged a reputation as a team that always puts up a good fight and former manager Juan Ignacio Martínez imposed a tough pressing style of football. With Joaquín Caparrós now in charge, everything indicates that Levante will retain this combative style. Despite losing some important players during the summer such as Munúa, Acquafresca and Míchel Herrero, Levante has managed to bring in some useful replacements to form a squad that combines youth with experience. The first to arrive was Xumetra, who helped Elche win promotion to the top flight.
He was joined by striker David Barral, who made his name with Sporting Gijón and spent last season in Turkey with Orduspor. He'll be partnered upfront by the most recent recruit, Nong. The Cameroonian scored nine goals in the Belgian league last season with RAEC Mons.
So it looks like Barça will be up against a Levante team that may have changed a lot of names but seems certain to maintain their trademark style. A tough, pressing side with the stamp of Joaquín Caparrós and the boost of a good pre-season campaign. That's the first opponent of Tata Martino's Barca in the league this Sunday at 7 pm in the Camp Nou.