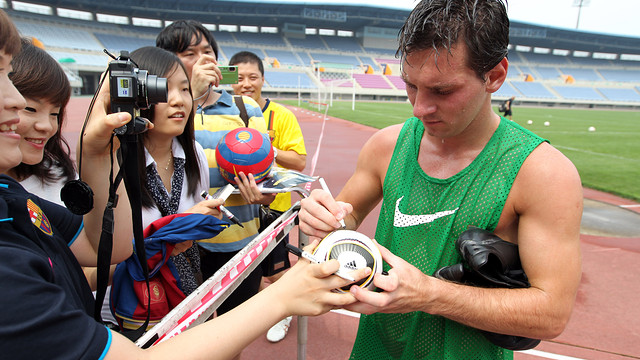 Thailand and Malaysia are the Asian countries that FC Barcelona is visiting this preseason
Thailand and Malaysia are the two Asian countries being visited by FC Barcelona this preseason. The 2013 Asian Tour will be taking place from August 4 to 11, and Barça will be taking on the Thai national team and a Malaysian XI.
The following is the complete schedule for the trip:
*All times are local. Please note that the time difference between Bangkok and CET is +5h, and with Kuala Lumpur, it is +6h.
MONDAY AUGUST 5, 2013
12.30 Arrival at Don Muang Airport (DMK) in Bangkok
17.30 Press conference at the Okura Prestige Bangkok Hotel featuring two players
19.30 Training in the Thai Army Stadium
TUESDAY AUGUST 6, 2013
09.00 Training in the Thai Army Stadium
11.30 FCB Foundation event with UNICEF Thailand in the team hotel
11.30 Event organised by Nike in Siam Square, Bangkok
17.30 Event organised by the Catalonian Tourist Board in the Rajamangala National Stadium
19.00 Training in the Rajamangala National Stadium. Followed by Nike clinic
WEDNESDAY AUGUST 7, 2013
09.00 Training in the Thai Army Stadium
19.00 Friendly match: THAILAND NATIONAL FOOTBALL TEAM v FC BARCELONA
THURSDAY AUGUST 8, 2013
08.00 Departure from hotel for Don Muang Airport (DMK) in Bangkok
10.00 Departure of flight to Kuala Lumpur (Malaysia)
13.00 Arrival at Kuala Lumpur International Airport (KUL)
17.00 Press conference at the One World Hotel
19.00 Training in the Shah Alam Stadium
20.30 FCB Foundation "Dignity for children" event in the stadium
FRIDAY AUGUST 9, 2013
09.30 Training in the Shah Alam Stadium
11.00 Event organised by Nike
18.30 Event organised by the Catalonian Tourist Board in the Bukit Jalil National Stadium
19.30 Training in the Bukit Jalil National Stadium
SATURDAY AUGUST 10, 2013
09.30 Training in the Shah Alam Stadium
20.45 Friendly match: MALAYSIA XI v FC BARCELONA
00.30 Departure of flight to Barcelona
SUNDAY AUGUST 11, 2013
07.30 Arrival in Barcelona