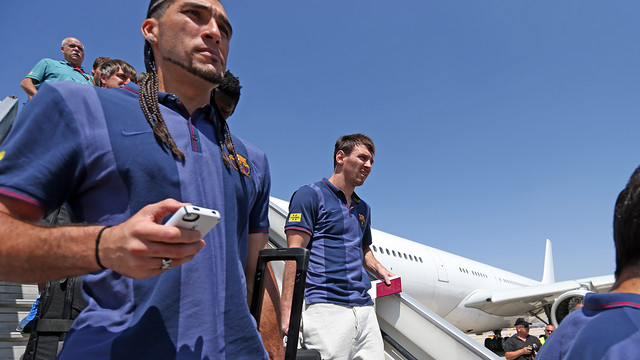 The Barça players have arrived in Bangkok, the capital city of Thailand
Rosell returns to Barcelona
President Sandro Rosell has not continued on from Thailand to Malaysia. As planned, after two days in which institutional affairs have been the most important aspect of the trip, he has returned to Barcelona accompanied by vice-president Javier Faus, the main organiser of the Peace Tour.
After two busy days in Palestine and Israel, FC Barcelona have ended the 'Peace Tour' and arrived in Bangkok (Thailand), where they play the national team on Wednesday. In this city of six million inhabitants, Barça will be combining training with commercial and charity events, such as the visit to the Unicef offices in Thailand.
After this afternoon's press conference to present the Chang Champions Cup, featuring Piqué and Iniesta, the squad will train in the Thai Army Stadium. There will be two training sessions on Tuesday and one more on Wednesday, the morning of the match. This is the second time FCB have travelled to play in Bangkok.
The team touched down at a hot and humid Don Muang Airport at 14.15, local time, following a ten and a quarter hour flight from Tel Aviv. The flight was by night and the jet-leg shouldn't be as bad as it has been on other trips to the Far East, because the time difference with respect to Israel is just four hours.