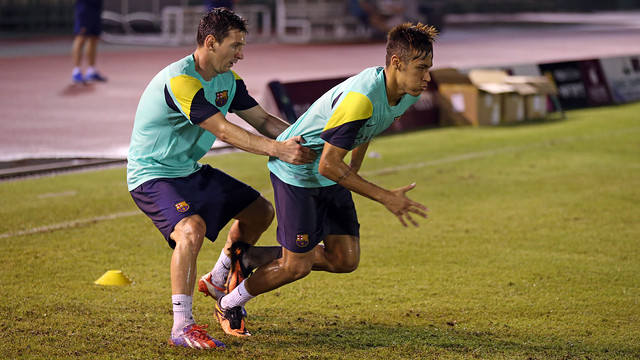 The first team concludes the day with a training session at Thai Army Sports Stadium in Thailand
Cristian Tello, who's recovering from the injury which kept him out of the Joan Gamper Trophy, joined his team-mates for this evening's session

The ball is rolling in Bangkok. Manager Tata Martino led his men in the first training session in the Thai capital after a fairly intense day, which included a 10-hour flight from the Middle East.
The team trained at Thai Army Sports Stadium, which is located in Bangkok's extensive military complex. All 24 players who made the trip to Thailand took part in today's training session. For the first time since he picked up his injury, Cristian Tello trained alongside his team-mates. Later on he worked apart from the group to continue his recovery process.
During the first 30 minutes, the players focused on physical conditioning and ball drills. The humidity and heat were the main obstacles for Tata's men as they finished the session completely drenched in sweat.
Tuesday, double session
The team will take to the training pitch once again on Tuesday morning and later in the evening. The first session of the day will be closed to the public, but the second, which will be held at Rajamangala Stadium, will be open to the public.