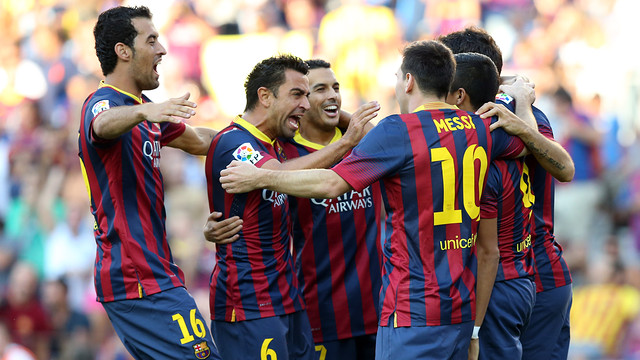 Tata Martino's Barça has exploded into the league campaign with a stunning recital of football and goals
Barça dominated the entire 90 minutes and swept to victory with goals from Alexis, Messi (2), Alves, Pedro (2) and Xavi

What a fantastic start! Tata Martino's Barça league debut was a masterpiece. A sublime performance. The players followed the roadmap laid down by the Argentine coach during his first few days: possession, moving the ball swiftly, pressure up field and verticality in recovery. Levante was so overwhelmed in the Camp Nou that after just 25 minutes they were already losing 4-0. And 6-0 at halftime. A record.
An avalanche
Barça's overwhelming superiority will be hard to equal. The combination of spectacle and effectiveness in the first half was prefect. With only two minutes gone, a slick passing move involving Mascherano, Pedro, Xavi, Cesc and Alexis gave the Chilean international the easiest of finishes from close range. The game was being played almost exclusively in the visitors' half while for the few moments that Levante managed to hold possession, Barça defended aggressively and with their lines tightly together. In contrast, Barça created acres of space for themselves to drive forward in a sheer avalanche of attacking football. In the 11th minute, Busquets, Fàbregas, Messi and Pedro combined to make it 2-0.
Messi was in deadly form while Cesc constantly split the Levante defence with his passes into space. In the 23rd minute, the two combined yet again to set up Alves for the third. Then it was the turn of Pedro to stroke the fourth goal of the evening past an increasingly desperate Keylor Navas in the Levante goal. The goalkeeper did well to keep out efforts from Messi and Xavi, the later from a free kick that was heading for the top corner. Then Messi got the fifth from the penalty spot in the 41st minute after a clumsy tackle on Adriano. And there was still time for Xavi to celebrate the fifteenth anniversary of his competitive debut with Barça's sixth goal of the first half. Incredible.
Neymar and one more goal
The players eased off in the second half but still continued to create chances. Piqué had a couple while Levante did their best to stem the tide, more with pride than organisation. In the 61st minute, Neymar– one of several international players including Iniesta, Alba and Tello held back on the subs bench – made his much awaited competitive debut. The crowd roared their approval, giving a similar ovation to Messi when he was replaced by Iniesta in the 70th minute.
Barça continued to attack but the final goal of the evening came after a defensive mix-up that handed Pedro the seventh on a plate (min 72).
The Barça players finally sat back and played out the remaining minutes with possession football while the Camp Nou crowd went mad. Only Neymar showed signs of wanting more from the evening, with some penetrating runs down the left. All in all a superb start to the season. This looks promising!