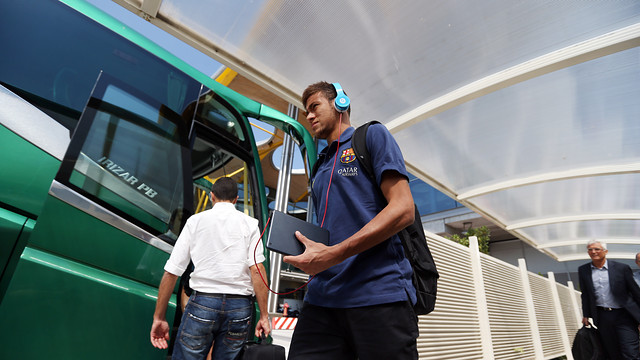 The travelling party arrived at Barajas at 12.10 and will return to Barcelona on Thursday morning
This Wednesday night's Spanish Supercup first leg kicks off at 23.00
Barça are in Madrid. After a one-hour flight, the team's plane touched down at Barajas Airport at 12.10. The expedition is being led by president Sandro Rosell and directors Jordi Moix, Ramon Pont, Joan Bladé and Manel Arroyo, as well as director of professional football, Andoni Zubizarreta.
Rest at the hotel
They were greeted by a temperature of 28ºC, and were transferred to the Eurostars Madrid Tower. The players will rest there until about 21.30, and will then head for the Vicente Calderón. The Supercup first leg kicks off at 23.00 (TV3 and La 1).
The team will stay the night in Madrid and return to Barcelona on Thursday morning on a flight that is due to land at El Prat at around 12.00.