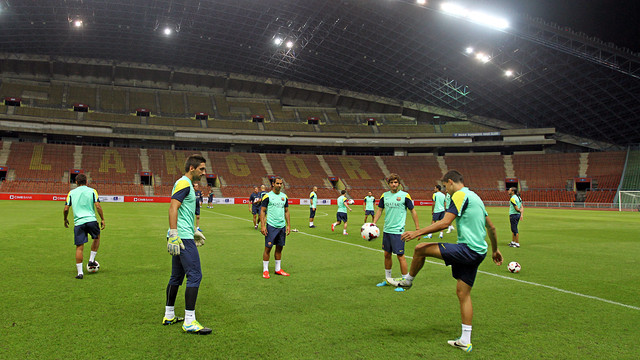 Both players' fitness has improved and they are back training with the team in Kuala Lumpur
Pedro and Alba stayed in the hotel to do recovery work
Cristian Tello and Jonathan Dos Santos have trained normally with the rest of the team. It is the first time they have completed a full session since Barça started the summer tour.
Both Tello and Dos Santos are the only players in the travelling party that played no part in the game with Thailand. But they could both feature in Saturday's final game of the preseason. The winger's left thigh injury seems to be behind him, and Dos Santos no longer seems to be having any trouble with his pulled quadriceps.
Pedro and Alba in hotel
However, Pedro will not be playing in Kuala Lumpur. The Canary Islander stayed in the hotel gym doing recovery work from the thigh injury sustained on Tuesday. He was joined by Jordi Alba, who also did recovery work.
The 22 other players trained behind closed doors in the Shah Alam Stadium, the team's first session on Malaysian soil. The ground holds 80,000 spectators and has an athletics track, and is usually used by local outfit Selangor FA. But Barça will be playing on Saturday in the Bukit Jali National Stadium, which holds a massive 100,000 spectators.
Before the session started, the players appeared in an event organised by the FC Barcelona Foundation in collaboration with local charity Dignity for Children.