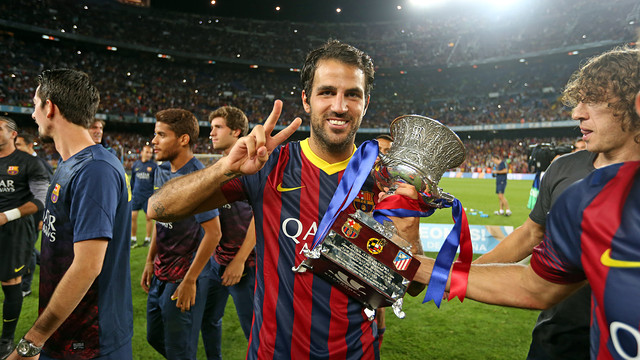 With two seasons under his belt, the 26-year-old midfielder has scored 29 goals for the first team
Cesc participated in the second leg of the Spanish Super Cup against Atletico Madrid this evening thus reached his 100th official match in the FC Barcelona strip. As a bonus, the Catalan was rewarded with the Spanish Super Cup title, which makes his century a bit more special.
The midfielder, who graduated from La Masia and featured for Arsenal, signed with FC Barcelona in August of 2011. He's netted a total of 29 goals in his two seasons as a Barça player.
Special relationship with the Super Cup
Cesc has a symbolic relationship with the Spanish Super Cup. His first ever official match with FC Barcelona was in the second leg of the competition. He made his debut on August 17 of 2011 at the Camp Nou, in the match where Barça defeated Real Madrid by 3 to 2 and went on to claim the title. The Catalan had been officially presented two days prior, and he was brought on in the 83rd minute for Pedro.
In the first leg of the 2013 Super Cup, last week against Atletico Madrid, Fàbregas came in for Messi at the break. Curiously enough, that match saw Cesc complete his 400th career game as a professional footballer.
Yet to score in the Spanish Super Cup
At the age of 26, Barça's No4 has scored in every official competition for Barça but the Spanish Super Cup. He's scored 20 times in La Liga (62 matches), 5 times in the Copa del Rey (15 matches), 2 times in the Champions League (17 matches), once in the European Super Cup (1 match) and once in the Club World Cup (1 match).
His overall record as an FC Barcelona player stands at 72 victories, 20 draws and 8 defeats. Over the course of his 100 games for the team he's won one Liga, one Copa del Rey, one European Super Cup, two Spanish Super Cups and a Club World Cup.