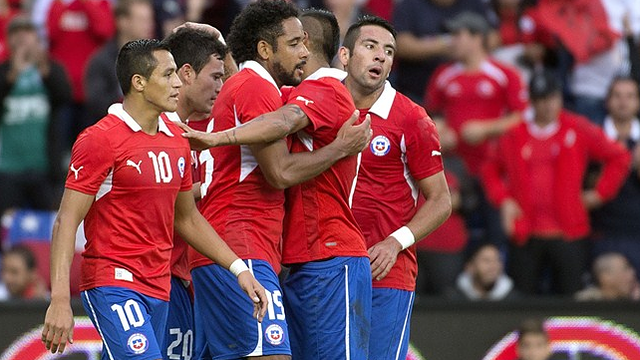 The Chilean scored a brace and gave two assists in Chile's 0-6 victory over Iraq
Del Bosque gave Cristian Tello his first international cap in Spain's victory over Ecuador (0-2)
Neymar and Alves, both starters for Brazil, were defeated by Switzerland in Basel (1-0)
Sanabria and Babunski debut for their respective countries
In addition to the first team players, this Wednesday saw two youth team players – Tonny Sanabria and David Babunski – make debuts for Paraguay and Macedonia, respectively. The forward played the final 9 minutes of the Germany v Paraguay friendly (3-3), while Babunski played 30 minutes in Macedonia's 2-0 win over Bulgaria.
FC Barcelona's eight first team internationals all featured in today's round of international friendlies. Alexis Sánchez put in a fantastic performance as he fired for two goals in Chile's victory over Iraq (6-0). The Chilean scored his country's second and third goals, and he doled out two assists, during the match hosted in Denmark.
Tello makes his debut for Spain
Another piece of big news was Cristian Tello's first ever game with Spain's senior national team. The Catalan forward, who started, played the entire match against Ecuador (0-2). Iniesta, Jordi Alba, and Valdés also featured for Spain against the South American country.
Neymar and Alves start against Switzerland
Barça's two international Brazilians, Neymar and Alves, were both named to the starting line-up against Switzerland this evening. The match, which was played in Basel, ended in the home team's victory thanks to an own goal from the FC Barcelona defender.
Lastly, Javier Mascherano also featured for Argentina this evening in Rome against Italy (1-2). Leo Messi, who returned to Barcelona to recover from his muscle injury, was not at the match.