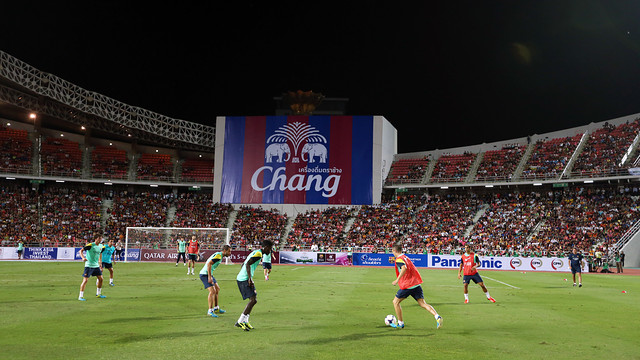 Tata Martino's men train at Rajamangala national stadium, the venue that will host tomorrow's match against Thailand

Nearly 15,000 people followed FC Barcelona's training session this Tuesday evening in Bangkok. The session was held at the national stadium of Rajamangala, the stadium will host tomorrow's match between the Blaugrana and Thailand.
This was the first session open to the public since the team arrived to Thailand on Monday. Some of the attendees who attended today's session bought tickets, while others were invited by the match promoter and the sponsoring businesses. In addition, some of the fans who purchased tickets for tomorrow's match also got to follow this evening's session.
Leo Messi, the last player to come out onto the pitch, was the most acclaimed player by the local fans, many of whom were donning the Barça colours.
Meeting areas, which were personalised with images of the players, were set up outside the 50,000-capacity stadium. Inflatable goals, game zones and rest areas brought a bit of colour to a city that's eagerly awaiting tomorrow's match. It's expected that the stadium will be full for the showdown between Thailand and FC Barcelona.
Dos Santos and Tello focus on recovery work
During today's session, Jonathan dos Santos and Cristian Tello focused on recovering from their respective injuries. The rest of the team broke up into three separate groups and faced off against each other in scrimmage matches.
At the conclusion of the session the players gave out shirts and footballs to the fans.