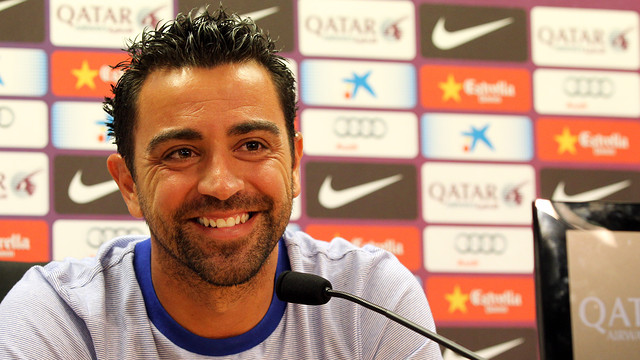 The midfielder has said Vilanova's farewell was "one of the worst pieces of news in my career", but is pleased with the way things seem to going with Martino
Remembering Ramallets
Xavi Hernández, the player with the most all-time appearances for Barça, spoke about the death of Antoni Ramallets, the hero of the team that famously won five cups. "He was a legend, and it's a very sad day. We'll try to honour him on Friday at the Gamper, he deserves to be well remembered. He set new standards at this club" he said.
Xavi Hernández has had a lot of changes to face up to since returning from his holiday, and spoke about them at his Wednesday lunchtime press conference. He described Tito Vilanova's resignation as "one of the worst pieces of news of my career. It was very sad."
Since Monday, Gerardo 'Tata' Martino has been in charge of the first team. "Things have changed and now we need to adapt to the new coach" he observed. "He's a serious person, hard-working and has a dynamic approach, with some tactical changes … But we are as eager as ever, and we'll try to adapt to him as he will to us".
Promising start
Despite the difficult circumstances, Xavi doesn't sense any change in the famous Barça mentality. "The team is working hard, and we're keen to continue making history" he said. "The mood is a good one. Tata Martino is able to get his winning spirit across."
Still on the new coach, he added "he's a humble, hard-working person, and he can adapt to anyone. He likes to check that we agree on everything." As for what he believes the Argentinian's priority should be, the midfielder suggested that "we need get back the intensity we started to lose unknowingly towards the end of last season."
Neymar to make difference
Another change is the presence of a new world superstar in the squad. Xavi was asked to say a few words about Neymar, and responded that "he's the kind of player who's destined to make a difference. He can score and can upset the balance of games … He has to be himself, to show character and to do for us what he did in Brazil and for his national team."
Meanwhile, Thiago Alcántara has departed. Xavi wishes his former team-mate luck at Bayern. "We'll soon see whether he made a mistake or not. He's an extraordinarily talented player who'll do well wherever he goes. We've lost one of our future stars" he said, before going in to comment on the rumours about Cesc's future at Barça: "He seems relaxed enough to me" said Xavi. "He's working with the team and looks motivated, so there's nothing else to be said on the matter."
The mood is a good one. Tata Martino is able to get his winning spirit across
Neymar must show character and to do for us what he did in Brazil and for his national team