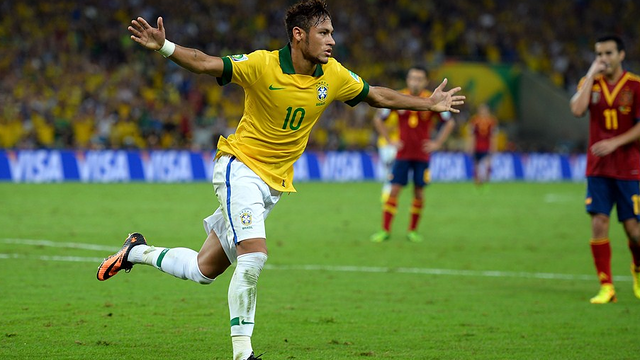 Press outlets from around the globe highlight Neymar's exhibition during the Brazil v Spain match at Maracaná
Neymar winning the MVP of the tournament and Brazil's victory over Spain in the final of the Confederations Cup were the focus of headlines from sports dailies from around the globe on Monday night. The press focused on Neymar's performance during the match which featured up to nine FC Barcelona players (Neymar, Alves, Piqué, Alba, Busquets, Pedro, Xavi, Iniesta and Villa).
'SPORT'
With the title 'Neymar Champion' the Barcelona-based daily focused on the final of the Confederations Cup saying "Neymar scored a beautiful goal and he imposed his whirlwind style of football."
'MUNDO DEPORTIVO'
'Neymar is crowned' reads the headline of Mundo Deportivo, the daily also goes on to say that the MVP of the tournament "was unstoppable."
'MARCA'
The Madrid-based publication notes that Spain crashed at the Maracaná against a Brazilian team that was very superior due to their concentration, speed, intensity and physical prowess. In addition, Marca highlights Nerymar's "stellar" performance.
'EL PAÍS'
With a photo of Neymar on the cover, El País says that "La Roja were defeated by Brazil" in a match dominated by the home team.
'AL JAZEERA'
"Neymar, the Confederations Cup sensation," says Al Jazeera. The publication then goes on to highlight the award won by Barça's newest player, the Golden Ball of the competition.
'GLOBOESPORTE'
The Brazilian outlet highlights Neymar's brilliant performance with the headline "Muito prazer" which resulted in "el baile, golazo e inteligencia" of the new FC Barcelona player.
' LA GAZZETTA DELLO SPORT'
The Italian daily praises the Brazilian national team's performance against Spain, who were "crushed and humiliated."
'NEW YORK TIMES'
The prestigious North American newspaper leads with "Neymar and Brazil rout Spain and live up to their billing." The publication then goes on to compare the Brazilian youngster with other Brazilian greats like Ronaldo, Romário and Pelé.
'L'ÉQUIPE'
The French outlet focuses on the amazing atmosphere at Maracaná which healped Brazil defeat the "king of football."
'RECORD' (Portugal)
The Portuguese news outlet says that Neymar "cleared up any doubts" about his quality in a match where Brazil "did away with Spain."
'THE GUARDIAN'
The British publication focuses on the "majestic" goal scored by Neymar.
'KOMPAS' (Indonesia)
The popular Indonesian daily highlights Neymar's contribution and the two goals scored by Fred in their leading story, "Spain destroyed 3-0, Brazil retain the Confederations Cup title."
'NIKKAN SPORTS' (Japan)
The Japanese outlet, which leads with 'Brazil, impeccable victory over Spain,' highlights Neymar's performance as an "exhibition of his great quality, he never showed selfishness on the pitch."