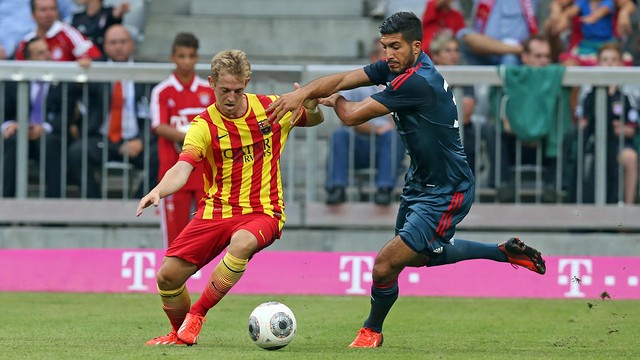 In Munich, the midfielder and striker were playing in the Barça first team for the first time
The game with Bayern was the first defeat for FCB in a preseason opener since 2002

Bayern v Barça (2-0) on Wednesday at the Allianz Arena was decided by goals from Lahm and Mandzukic, one in each half. Here we look back at some of the trivia that came out of the first Barça game of the 2013/14 preseason.
• Two of the 22 players that featured in Munich were in the Barça first team for the first time ever. These were midfielder Jordi Quintillà and striker Dani Nieto, who both played the whole of the second half.
• Of the eleven players on the pitch in the second half, only three have ever played an official match for Barça. These are Oier, Planas (two games each) and Sergi Gómez (just one).
• Only three of the players that started the Champions League semi-final first leg last season were in action on Wednesday night at the Allianz Arena. These were Bartra, Alexis and Messi, all three of which were substituted later in the game.
• The match at the Allianz Arena was the first time FC Barcelona has lost its first game of the preseason since 2002. That last time, under Van Gaal, was a 1-0 defeat to Grenoble.
• Before that, we have to go all the way back to July 26, 1977 for another loss in a preseason opener, when FC Barcelona lost 6-0 to Hamburg, the Cup Winners Cup champions at the time, just like Bayern are the current holders of the Champions League crown today. Reports in the Catalan press at the time speak of a 'most inopportune' fixture, which was also the presentation of Kevin Keegan as Hamburg's high profile new signing.
• There have, however, been several draws of late in preseason openers. The most recent examples were against Hadjuk Split (2011), Tottenham (2009), Banyoles (2004), Juventus (2003), Groningen (1994), a Japanese League XI (1990), Anderlecht (1983) and Antwerp (1979).
• The game in 1994/95 against Groningen was particularly spectacular, ending as it did in a 5-5 draw, with a hat trick from Jordi Cruyff and two more from Gica Hagi. Incredibly, Barça were losing 4-0 after just 35 minutes.