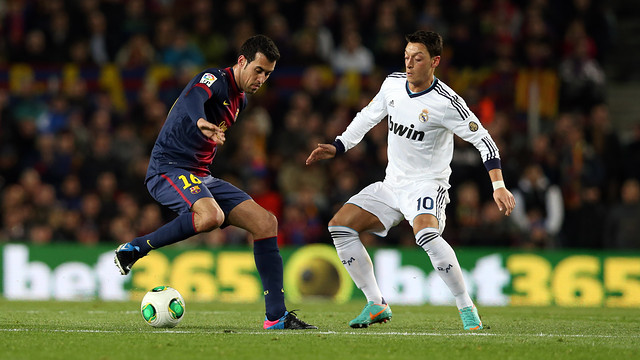 In five years, Sergio Busquets has progressed from the third division to becoming one of the best defensive midfielders in the world
He's not known for dazzling skills, but is extraordinarily effective. He's tactically aware, and makes very few mistakes with his sensible football in support of his team-mates
Sergio Busquets burst onto the scene and almost overnight became one of the world's most respected midfielders. In 2007/08, he was playing for Barça B in the third division before following manager Pep Guardiola into the first team. He was the major breakthrough of the treble winning campaign and by the end of the season was starting in the Champions League Final in Rome.
Now 25 years old, Busquets has made 236 official appearances for the first team. Despite stiff competition from the likes of Touré Yaya, Mascherano and Song, he has been a regular in the first eleven under both Guardiola and Tito Vilanova and has thus played a big role in the finest Barça team ever. He has won fifteen titles in just five years, including four leagues, two cups, two Champions League and two Clubs World Cups, not to mention his world and European titles for the Spanish national side.
The thinking man's footballer
Sergio Busquets is the kind of man every team craves. He is not the most spectacular of players, but is impeccable when it comes to getting the job done. His touch is almost always effective, he has tactical know-how, and likes to keep things simple as he commands his zone and facilitates things for the players around him. He is particularly useful for bringing the ball out of defence, and very rarely gives it away. And when he drops back into defence, usually to cover for the forward runs of more attack-minded team-mates, he offers the kind of security against counter-attacks that every team needs.
His height (1.89 cm) also means he can cover for other positions when called upon, usually in the centre of defence but sometimes in attack too. Without making too much of a fuss of things, Sergio Busquets is one of the key reasons why the Barça machine works so well.