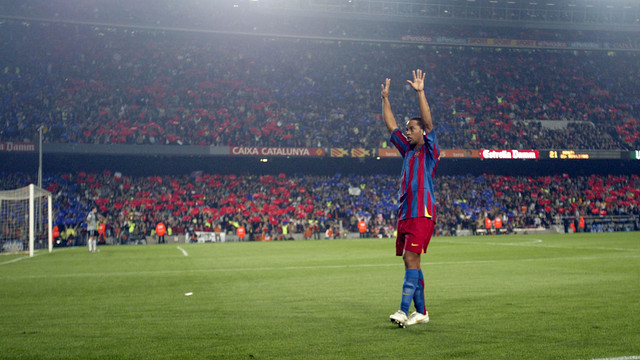 The Brazilian led the team to two consecutive league titles (2004/05 and 2005/06) and the Champions League title in Paris (2005/06)
'El Gaucho' won prestigious individual awards during his time at FC Barcelona, the FIFA World Player (2004 and 2005) and the Ballon d'Or (2005)
Ronaldinho is considered to be one of the best footballers to don the Blaugrana strip. Here's a look back at Ronnie's most significant accomplishments during his FC Barcelona career:
• The Brazilian with the magical smile was Barça's marquee player from the 2003/04 season through the 2007/08 season. During this time he won 2 Ligas (2004/05), 1 Champions League (2005/06), 2 Spanish Super Cups (2005/06, 2006/07) and 3 Catalan Cups (2003/04, 2004/05, 2006/07).
• Ronaldinho signed for FC Barcelona on 20 July of 2003, from Paris Saint-Germain.
• He made his debut for the team on 27 July of 2003 in Boston against Juventus (2-2), during Barça's USA Tour. Ronnie made his debut in La Liga on 1 September 2003 against Athletic Club Bilbao at the San Mamés (0-1).
• His first official goal for Barça was scored a couple of days later against Sevilla at the CampNou, in a match that started at 0:05 on 3 September. A shot from 25 meters left the fans in the stands in awe as the ball rocketed into the back of the net.
• He scored 22 goals in 45 matches in his first season with Barça. The team was managed by Frank Rikjaard at the time.
• In the 2005/06 season Ronaldinho led Barça to the league title and the Champions League crown. He scored 26 goals in 46 matches.
• On 19 November of 2005, the Brazilian put in a sublime performance at the Santiago Bernabéu. He netted twice in Barça's 0-3 victory over Real Madrid and he was given a standing ovation from the home fans.
• The Brazilian won his first Champions League with Barça against Arsenal at Saint-Denis Stadium in Paris on 17 May of 2006. He was named the best player of the Champions League by UEFA.
• In his five seasons with FC Barcelona, Ronaldinho nearly scored a total of 100 official goals for the Club. He netted 94 times as a Blaugrana.
• He also won prestigious international awards like the FIFA World Player (2004 and 2005) and the Ballon d'Or (2005).