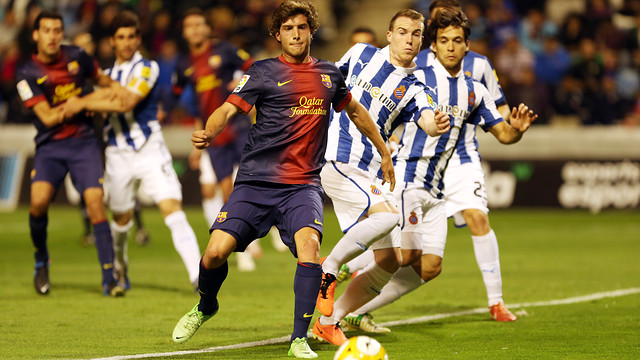 The player from Reus is in the first team squad after seven years at La Masia
The midfielder made his first team debut in 2010, and is a very different kind of player to his fellow midfielders at FCB
The choice
As the FCB director of football Andoni Zubizarreta has already said, Sergi Roberto is the latest of many youth team products to make his way into the first team. Following Thiago Alcántara's departure for Bayern Munich, 'Zubi' knew exactly what to do. "Thiago having gone, our choice is Sergi Roberto," he said. Yet another example of the club's philosophy of promoting local talent.
Sergi Roberto was 14 years old when he left his hometown of Reus to join La Masia at FC Barcelona. Now 21, he has spent a third of his life at Barça, having made his first team debut it 2010 and now in 2013/2014 he has finally been made an official member of the first team squad and is closer than ever to a regular spot in the first eleven.
Seven years at La Masia
Sergi Roberto spent three years playing with the different youth teams, and then enjoyed four seasons with Barça B, first playing in Division 2B and then in 2A. Every one of his previous coaches has used him as a regular first team member.
Luis Enrique handed him his B team debut in 2009/2010, and that same season, in a Copa del Rey game with Ceuta, Pep Guardiola gave him a chance in the first team. In 2011, Sergi Roberto even got to play his first Champions League match, and none other than the semi-final at the Santiago Bernabéu.
Skilful, direct and powerful
Sergi Roberto is not the typical midfielder to come out of La Masia. Although he naturally developed the same short passing game and the ability to read the play, Roberto is also a physical player and likes to take a more direct approach. This adds an exciting element of unpredictability to the Barça style, which is a constant cause of bother for rival defences.