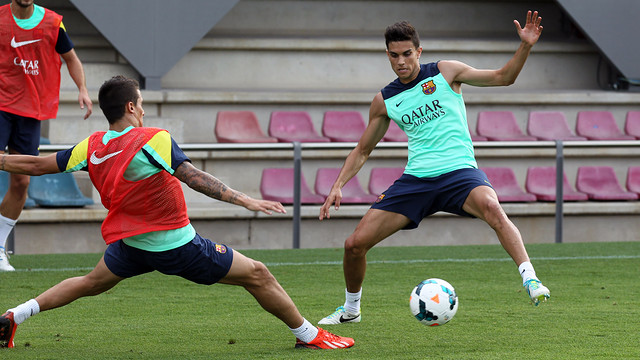 En el entrenamiento de la tarde de este miércoles ya se han incorporado los futbolistas del Barça B que reforzarán el primer equipo hasta la llegada de los internacionales
De la primera plantilla se han ejercitado los 12 jugadores disponibles, y Cuenca ha vuelto a hacer trabajo de recuperación después de recibir el alta hospitalaria
Montoya press conference
After tomorrow's training session at 9.00, Martín Montoya will hold a press conference.
Tito Vilanova's men trained twice on the third day of the 2013/14 preseason. The players took to Field 1 of the Ciutat Esportiva Joan Gamper for their second session of the day, 11 Barça B players joined their senior team counterparts for the session.
The youngsters will work with Tito Vilanova and his technical staff until the players who featured in the Confederations Cup return to Barcelona. The 11 Barça B players are Ilie Sánchez, Carles Planas, Javi Espinosa, Sergi Gómez, Joan Román, Kiko Femenía, Partic Gabarrón, Dongou Tsafack, Dani Nieto, Jordi Quintillà and Sergi Samper.
Isaac Cuenca gets medical green light
Isaac Cuenca received medical clearance to return to training after he sustained a cervical contusion during yesterday's training session. Carles Puyol and the Ibrahim Afellay trained apart from the group as they recover from their respective injuries.
The team will train again on Thursday at 9.00 at the Ciutat Esportiva Joan Gamper in preparation for their first match of the preseason, which is scheduled for Saturday in Poland.