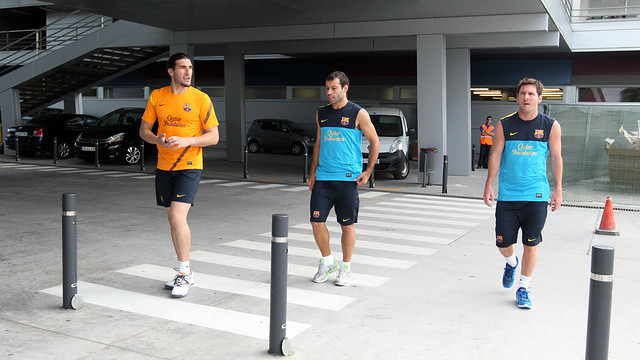 Next Monday – July 15th – the first team squad holidays come to an end and the players will be reporting for their annual medical check-up and tests.
From Tuesday there will be morning and afternoon training sessions every day, with the opening game of the pre-season set for Saturday against Lechia Gdansk
Press conference on Tuesday
After Tuesday morning's training, Tito Vilanova and Andoni Zubizarreta will hold a press conference at the Ciutat Esportiva, which will be broadcast live on Barça TV and live streamed at www.fcbarcelona.com
The first team squad will be back at work next Monday morning when they are due at the Ciutat Esportiva Joan Gamper for their regular pre-season medical checkups and tests. From Tuesay, Tito Vilanova will be holding morning and evening training sessions starting at 9.00 and 19.00 to avoid the midday heat in Barcelona.
The first week's work will end with the side's first pre-season game – at 20.30 on Saturday July 20th when they take on Lechia Gdansk in Poland. The players will enjoy their first rest day of the pre-season on Sunday.
Below is the full first team squad schedule for next week:
Monday 15 July
10.00, check up and medical tests at the Ciutat Esportiva Joan Gamper
Tuesday 16 July
9.00 training at the Ciutat Esportiva
19.00 training at the Ciutat Esportiva
Wednesday 17 July
9.00 training at the Ciutat Esportiva
19.00 training at the Ciutat Esportiva
Thursday 18 July
9.00 training at the Ciutat Esportiva
19.00 training at the Ciutat Esportiva
Friday 19 July
9.00 training at the Ciutat Esportiva
19.00 training at the Ciutat Esportiva
Saturday 20 July
20.30 pre-season friendly Lechia Gdansk – Barça
Sunday21 July
Rest day