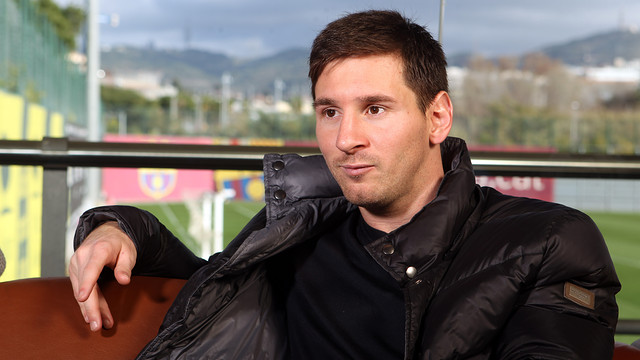 The Barça star reveals that Ronaldinho was a key figure in helping him settle into the team insists that Barça "should always be grateful for everything he did"
Messi: "It's never easy to go into a changing room at the age of 16 especially with my character. Ronaldinho was the star of the team and he really helped me a lot"
Report on Ronaldinho
Leo Messi's comments are from a Barça TV programme that will be aired for the first time on 21st July at 8 pm, to coincide with the tenth anniversary of Ronaldinho's official presentation with FC Barcelona. The programme is entitled 'Quan el Barça va recuperar el somriure' (When Barça got its smile back) and takes a look at the change that came over the Club when the Brazilian joined FC Barcelona from PSG. The programme also features contributions from Puyol, Deco, Sylvinho and Sandro Rosell, the man responsible for bring Ronaldinho to Barcelona.
[[DES_1]]
Last Thursday, Ronaldinho made history with Atlético Mineiro by scoring the decisive penalty of the semi-final and sending them through to the final of the Copa Libertadores. He is the main attraction of his current team, just as he was with Barça. Speaking in an interview for Barça TV, Messi revealed: "I've always said that from the first moment I entered the changing room, Ronaldinho and the rest of the Brazilians – Deco, Sylvinho and Motta- welcomed me and made things easier for me. But above all, him (Ronaldinho), because he was the star of the team. I learned a lot by his side".
According to Messi, Ronaldinho was a key figure in helping him settle into the team. "He was a great help. It's never easy to go into a changing room at the age of 16 especially with my character. Ronaldinho made everything much easier for me. I had the good luck to experience him at first hand and to share many things with him. I can say that he's a really great person and that's the most important thing".
[[CITA_1]]
But Messi's praise doesn't stop there: "Ronaldinho was responsible for the change in Barça. It was a bad time and the change that came about with his arrival was amazing. In the first year, he didn't win anything but people fell in love with him. Then the trophies started coming and he made all those people happy. Barça should always be grateful for everything he did".
[[CITA_2]]
However, Messi doesn't only pick out the welcome he received from Ronaldinho; he also expresses his gratitude to former manager Frank Rijkaard: "Sometimes I didn't understand why I hadn't been picked or why I wasn't playing. Now I look at it coldly, I think that he treated me really well, without any hurry. I'm very grateful to Rijkaard because he knew what was best for me at every moment. That's why I'll always be grateful to him and all the coaching staff".
In fact, the only regret Messi has is not to have celebrated with more enthusiasm the Champions League trophy won in Paris in 2006. "I was recovering from injury and I didn't make the final. I was very young and I didn't want to celebrate it. Then Ronaldinho, Deco and Motta brought me the trophy so I could celebrate and that's a really good memory. Now I regret not enjoying myself more on the pitch, though I did afterwards"
I'm very grateful to Rijkaard because he knew what was best for me at every moment
Ronaldinho was responsible for the change in Barça. It was a bad time and the change that came about with his arrival was amazing