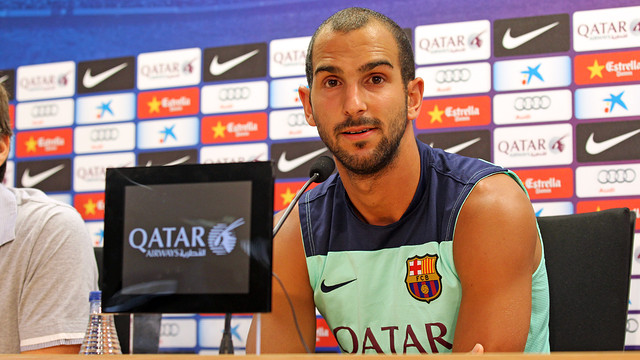 The full back is optimistic and believes he can make a big contribution to the team this season
"I can see one whose coming up that'll also be a star: Sergi Roberto", he said
The second player to give a press conference this preseason was Martín Montoya. The right back spoke about his aims for the coming campaign, saying "I want to be a threat to Dani Alves and fight every day for a place. It won't be easy but with hard work and enthusiasm I hope to get some playing time".
Montoya was happy with his role last season, saying that "I am very happy with the time I got. I played quite well for my first year, you have to work to win your place". He added that he winning a place in the Spain team at the World Cup is not his priority for now, he wants to concentrate on the club, and that "I am not thinking of going anywhere. I'm focused on here and want to stay a long time".
From Thiago to Sergi Roberto
The defender also spoke about the departure of Thiago Alcántara and the possible new talents that could emerge at the club. "We know Thiago will be one of the best players in the world and a great player has left us. He decided to do that, but coming up there's another player who'll be a star: Sergi Roberto. I hope he can be the future of Barça's defensive midfield".
Being another of the rising stars, Montoya spoke about the role products of the youth system can play at FC Barcelona. "They'll carry on bringing through new players. There are lots in the squad, but there's a lot of competition for places so some of the youngsters stay and others go elsewhere to get more playing time", he said.