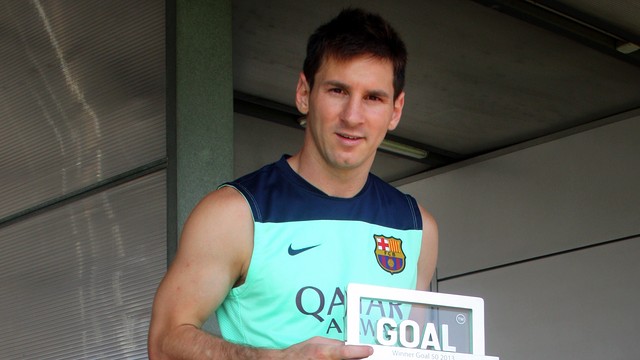 Messi won the award in 2008/09 and 2010/11 and finished ahead of Franck Ribery in second place and Cristiano Ronaldo, third
More than 500 journalists from Goal.com voted for teh top 50 players – a list that also included Barça's Neymar, fourteenth, and Andrés Iniesta, nineteenth

Top Ten
1. Lionel Messi
2. Franck Ribery
3. Cristiano Ronaldo
4. Thomas Muller
5. Arjen Robben
6. Gareth Bale
7. Philip Lahm
8. Thiago Silva
9. Arturo Vidal
10. Robin Van Persie
—
14. Neymar
19. Andrés Iniesta
Leo Messi continues to win awards and trophies at a frenetic pace and today Barça's World Number One has been awarded the Goal 50 Prize, heading the list of 50 players chosen by 500 journalists from the Goal.com website. Franck Ribery came second, with Cristiano Ronaldo third.
Barça players Neymar(14) and Andrés Iniesta(19) also appear on the list.

The year of 91 goals

The award comes in a year when Messi beat Gerd Muller's 40-year-old goal scoring record of 85 , bagging a total of 91 during the calendar year.
Still only 26, Messi has already broken many records and is the Club's leading scorer in all competitions(313).