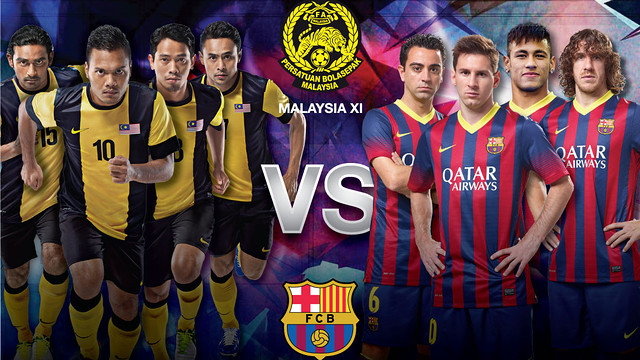 There's less than a month to go before Tito Vilanova's players face a Malaysian XI in Kuala Lumpar.
Team captains Puyol and Xavi and superstars Messi and Neymar feature on advertising poster for the game.
There's less than a month to go before Barça begin their pre-season trip to Asia, which culminates on August 10th in the visit to Kuala Lumpur to face a Malaysian XI. It'll be the sixth pre-season game the team play this summer, after matches in Poland, Munich, Oslo, Barcelona (Joan Gamper Trophy ) and Thailand.
Everything is ready for the game in Malaysia, with captains Puyol and Xavi and Messi and Neymar – who'll be playing his first few games with the team – figuring on the ad for the game.
Tremendous Stadium
The game will be played at the Bukit Jalil National Stadium, which was opened in 2008, and is the largest ground in the country, hosting the national team, with a capacity of 100,000.It will be the ideal stage for Barça's first ever game in Malaysia.
The Club will be taking the whole first team squad with them to Kuala Lumpur and will be their last pre-season friendly before the league opener against Levante.
TICKETS