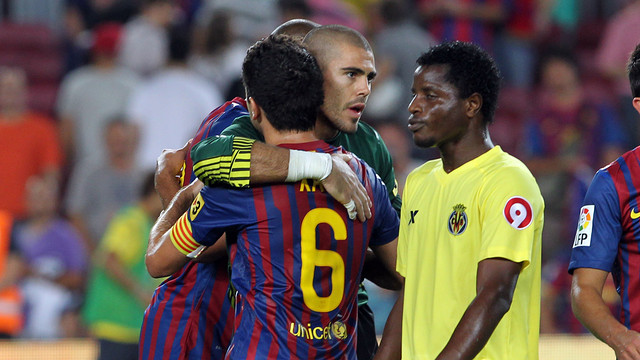 Barça have won 17 of the last 18 opening games of the Liga season when they have played at home
The only reverse in the last 40 years came in 2002/03 against Atlético Madrid
This will the first time that FC Barcelona has started a campaign against Levante
The last 10 home starts
12/13 R. Societat (5-1)
11/12 Vila-real (5-0)
09/10 Sporting (3-0)
02/03 Atlètic Madrid (2-2)
00/01 Màlaga (2-1)
99/00 Saragossa (2-0)
97/98 R. Societat (3-0)
93/94 R. Societat (3-0)
92/93 Madrid (2-1)
91/92 R. Societat (2-0)
Starting the league at home is a strong guarantee for FC Barcelona. They have won 17 of their last 18 opening fixtures at the Camp Nou. The only time they didn't was eleven years ago, when Atlético Madrid managed to hold them to a 2-2 draw.
Three recent goal-fests
FC Barcelona have got off to a flying start on their last three home debuts. A year ago, Real Sociedad were brushed aside 5-1 and the year before that Villarreal also conceded five in a 5-0 first-day rout. Sporting Gijón didn't fare much better four years ago, when they went down to a 3-0 defeat at the Camp Nou, in what was Barça's first home start for several seasons, the previous one being the aforesaid 2-2 draw with Atlético in 2002.
Real Sociedad the commonest opponent
Oddly enough, four of Barça's last eleven starts at the Camp Nou have been against Real Sociedad. The Basques have lost every time: 5-1 in 2012/13, 3-0 in 1997/98 and 1993/94 and 2-0 in 1991/92. The other sides against which FCB have got off to winning starts in front of their own fans have been Malaga (2-1 in 2000/01), Zaragoza (2-0 in 1999/00) and Real Madrid (2-1 in 1992/93). This will be the first time ever that Barça have started a Liga campaign against Levante either at home or away.
One other piece of trivia to end. FC Barcelona have only ever lost at home on the opening day on one occasion. That was way back in 1939/40 when they lost to local rivals Espanyol (0-1).