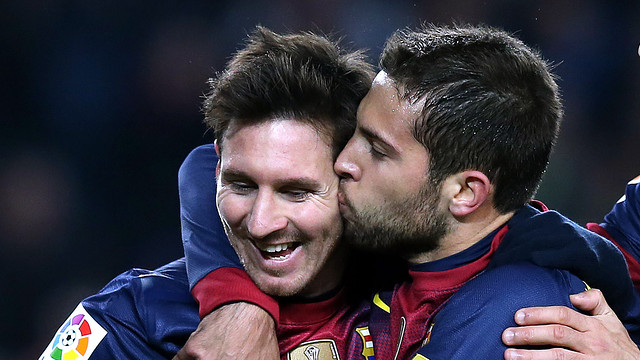 More than half of the goals scored by Barça in the last four league seasons have come from players groomed at la Masia
A total of 89 of the 115 league goals scored last season came from locally bred talent. Messi led the way with 46 goals
Barça scored 115 league goals last season. Products of the club's own youth system featured prominently by scoring no fewer than 89 of them, an astounding 78% of the total. A veritable success story for La Masia.
Messi, with 46 goals, led the scoring in the league campaign. In December, the Argentinian, who learned the trade at La Masia, surpassed Gerd Müller's record for goals in a calendar year. He totalled 85 goals, 85 for Barça and the rest for his country.
Four seasons of triumphs for local products
More than half of the goals scored every season from 2009/10 to 2012/13 were the work of locally produced players:
Season 2009/10: 56 goals out of 98 (57%)
Season 2010/11: 70 goals out of 95 (74%)
Season 2011/12: 89 goals out of 114 (78%)
Season 2012/13: 89 goals out of 115 (78%)
Other seasons
Products of the FCB youth system scored 77 goals between 2000 and 2007. That's 12 goals less than have just been managed in just one season (89).
In the first season under Guardiola (2008/09) players from La Masia scored 36 goals. In the first under Rijkaard (2003/04) they got 12, and under Van Gaal (1997/98) they got 9, while in the opening season of the Cruyff era (1990/91), they got five.
| | | |
| --- | --- | --- |
| SEASON | GOALS MASIA | % GOALS MASIA |
| 2012/13 | 89 | 78% |
| 2011/12 | 89 | 78% |
| 2010/11 | 70 | 74% |
| 2009/10 | 56 | 57% |
| 2008/09 | 36 | 36% |
| 2007/08 | 33 | 43% |
| 2006/07 | 24 | 32% |
| 2005/06 | 8 | 10% |
| 2004/05 | 9 | 13% |
| 2003/04 | 12 | 19% |
| 2002/03 | 6 | 9% |
| 2001/02 | 9 | 14% |
| 2000/01 | 9 | 11% |