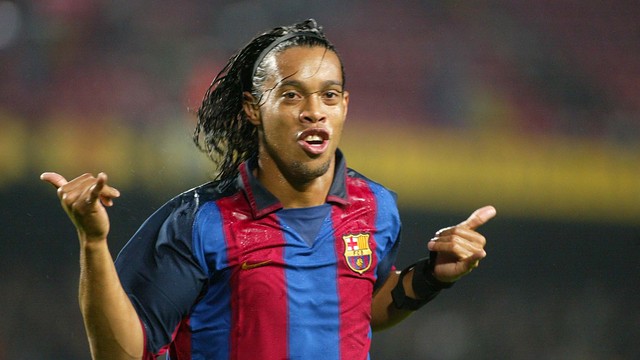 Romario and Ronaldo each scored over 30 goals in their first seasons with FC Barcelona
Macedo, Rivaldo and Ronaldinho also had fruitful opening seasons in the Camp Nou
Barça's latest Brazilian signing, Neymar, will be hoping to follow in the footsteps of his illustrious predecessors
Over the years, Barça fans have been delighted by the immediate impact of the Club's Brazilian signings. Romario, Ronaldo, Rivaldo and Ronaldinho were all in the goals from the very beginning of their time with FC Barcelona and now it's the turn of Neymar to keep up the tradition.
Over thirty goals

The two most memorable debut seasons came from Romario and Ronaldo. In the 1993/94 season, Romario contributed 30 goals to Barça's title-winning league campaign. Three years later, another former PSV star, Ronaldo, went four better and scored 34 goals in a season which saw the Barça side managed by the late Bobby Robson lift the Super Cup, the Cup and the European Cup Winners' Cup.
Ronaldinho provides goals and magic
To find the first Brazilian to marvel the Barça fans with his goals, we have to go back to the 1957/58 season and Evaristo Macedo (13 goals). He was followed by Sonny Anderson (10 goals in 1997/98) and Ronaldinho Gaucho (15 goals in 2003/04). However, Ronaldinho brought more than just goals to the Camp Nou – he brought a smile and an exquisite technique that would take the team in a new direction.
Two other Brazilian newcomers, Roberto Dinamita in 1979/80 (2 goals) and Giovani Deiberson in 2000/01 (1 goal), enjoyed rather more discreet debut seasons.
Other free-scoring forwards
In recent years, many of the Club's signings have been prolific in front of goal. In 2004, Cameroon international Samuel Eto'o scored 29 goals in his first season with FC Barcelona.
And in 2007/08, Frenchman Thierry Henry scored 19 goals. Ibrahimovic accumulated 21 goals in his first season in 2009 while Villa got his Barça career underway with 23 in 2010.
Goals for Santos
Now it's Neymar's turn. Despite his youth, he became the standard bearer for Santos scoring 170 goals in just 274 appearances. In 2009, at the age of 17 he made his debut and scored 14 goals in 48 matches. In the 2010/11 season, he made 60 appearances and scored 42 goals.
In the 2011/12 season he scored 43 goals. His six goals in the 2011 Copa Libertadores put him in third place in the ranking of goal scorers in the competition. At the beginning of 2013, he took part in the Paulista Championship with Santos, scoring 13 goals in 23 appearances.