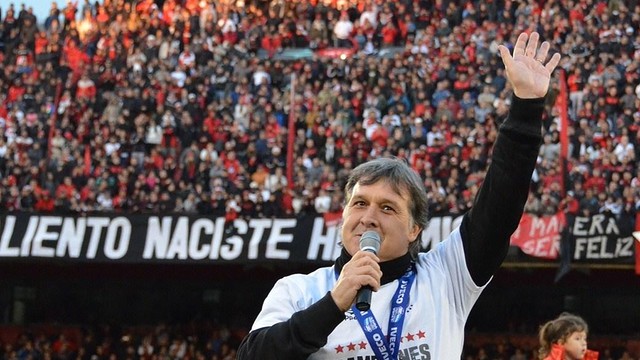 As manager, Gerardo 'Tata' Martino has been the most successful with his life-long team and the national team that he managed in the 2010 World Cup
With a long track record on the bench, his love for attack-minded football is clear
He's a legend for Newell's Old Boys, where he made over 500 appearances
Gerardo Daniel Martino, known also as 'Tata', was born in Rosario, Argentina, 50 years ago. He started his managerial career in 1998, after a successful football career at Newell's Old Boys, and since then he's instilled an attacking, creative and associative style of football in every Club he's managed. All of his teams have been very competitive. The Argentinian manager is also known for making his men pressure high up the pitch and having confidence in the players who come up from youth systems.
His first team as a manager was at Brown Arrecife, a team that plays in Argentina's Primera División B. In the 1999/00 season, he was signed by Platense, and the following year, 2000/01, he made the move to Instituto de Córdoba.
Successful in Paraguay and Argentina
After a year-long sabbatical, Gerardo Martino moved to Paraguay, where he won his first titles. The first Paraguayan team he managed was Club Libertad, where he won the Torneo Apertura and Clausura in 2002. The following year, in 2003, he won the Torneo Apertura.
His Paraguayan adventure led him next to Cerro Porteño, where he won titles in 2003 and 2004. After a brief stint with Colón de Santa Fe (Argentina), he returned to Club Libertad. From there he was named manager of the Paraguay national team. He led the South American country in the 2010 World Cup, where Paraguay were narrowly eliminated by Spain in the quarter finals of the tournament.
Martino then led Paraguay to the final of the Copa América in 2011. After the international tournament, he took control of Newell's Old Boys, a team that were struggling to avoid relegation. With 'Tata' in charge, the Rosario-based team avoided relegation and the next season they went on to win the Torneo Final 2013. Newell's also qualified for the semi-finals of the Copa Libertadores.
Attacking midfielder
Gerardo Martino is a living legend at Newell's. He made his debut for the team at the age of 17, and the talented attacking midfielder went on to make 505 appearances for the Club. It was at Newell's where he was influenced by Marcelo Bielsa. Martino also played for Tenerife (at the start of 1991), Lanús, O'Higgins (Chile) and Barcelona Guayaquil (Ecuador). He traded his boots for the bench in 1996.