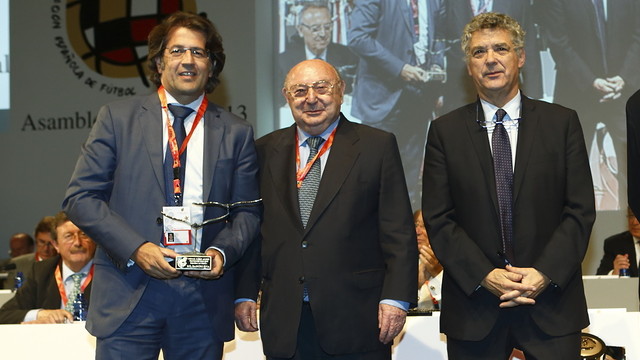 Barça finished with 74 points in the table, followed by Valladolid with 88
On Tuesday, the Spanish Football Presentation has presented FC Barcelona with the Fair Play Award 2012/13. Barça topped the table with 74 points, well clear of Valladolid (88 points) and Real Sociedad (102). The award uses a points system based on cards and other penalties throughout the season.
This is the fifth time that FC Barcelona has won the award, and third time running. The claub first won it in the days of Frank Rijkaard in 2005/06, and then won three more under Pep Guardiola, in 2008/09, 2010/11 i 2011/12. Now with Tito Vilanova on the bench, the Catalans have once again been honoured for their fair play in 2012/13.
Barça B also win award
The day was especially significant, because not only did the first team collect the award, but Barça have the honour of being the fairest team in the second division. Eusebio Sacristán's team won the award ahead of Girona and Lugo.