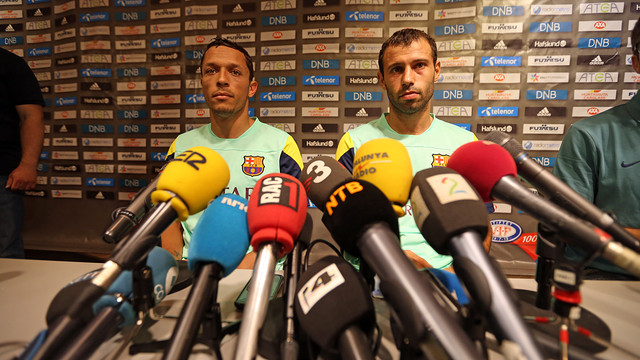 Mascherano: "I have never worked with him, but he changed the way Newell's play, he transformed the team and they became Argentinian champions"
Adriano: "Neymar feels happy to have signed for Barça. It was his dream and we saw how he can play at the Confederations Cup. He showed why he's coming to Barcelona and he'll get even better here"

Defenders Mascherano and Adriano spoke to the media today ahead of tomorrow's friendly with Norwegian club Valerenga. The Argentinian said that his new manager and compatriot Gerardo Martino "plays the same way as Barça, it's the same system".
Mascherano is a keen follower of his country's championship, and feels that at Newell's, Martino had "a similar idea of football to the one at Barça … The names are different, but the idea is still to pass the ball from the back, with the full backs pushing forward into the midfield, and with a 'false centre forward'. In Argentina they appreciated the way that, whatever the score, they always played the same way. That's like Barça … I have never worked with him, but he changed the way Newell's play, he transformed the team and they became Argentinian champions."
Remembering Tito
"The team will try to lift itself. What happened to Tito was all very quick," said Adriano. "When something like that happens we try to do things different to help us forget, but it's impossible. We remember him at every training session. He's not here any more." On the same subject, Mascherano continued that "we must not forget that we took a very tough blow the other day and still need to lift ourselves. It's an unusual situation."
Praise for Neymar
The two players also discussed Neymar, who will be joining them on Monday. Adriano said that his compatriot "is happy to have signed for Barça … It was his dream and we saw how he can play at the Confederations Cup. He showed why he's coming to Barcelona and he'll get even better here … He seems like a nice lad. Humble. Although he's famous and a great player, he has his feet on the ground. He is good one on one. He changes the game. A lot of teams like to keep it tight at the back against us and we need to recur to individual flair. It's important to have players like him."
Making improvements
Turning to the second game of the preseason tomorrow in Oslo (19.00), Adriano said "it'll be a chance to improve on things in the game with Bayern" while Mascherano discussed the presence of so many reserve team players. "We have been training with them for the last few days" he said. "They came a bit late because they had some games to play for Barça B. They're also starting from scratch and hoping to get some chances. They did very well in the second half against Bayern. They faced up to the challenge. They're trying to help us. Because of the Confederations Cup, we're missing half the squad!"
To end, Adriano thanked the club "for their confidence in adding two more years to my contract … I'll do everything I can to offer 100% in these years".