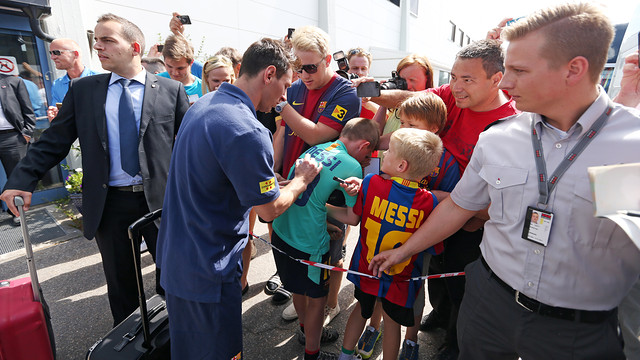 The plane taking the team from Munich to the Norwegian capital landed at Oslo-Gardermoen Airport at 13.20
Gerardo Martino, the new manager of Barça, will be travelling to join them in Oslo as soon as he has been officially presented in Barcelona
The team's training routine is not being interrupted, and they have one session on Thursday evening and two on Friday in preparation for Saturday's friendly (19.00) with Valerenga
Minut de silenci i braçalet negre
Before Saturday's game in Valerenga a minute's silence will be respected in memory of the victims of Thursday's train accident in Santiago de Compostela. The Barça players will also be wearing black armbands.
Barça have arrived in the second city on their preseason schedule. They left Munich early this morning, following Wednesday night's 2-0 defeat to Bayern, and were welcomed in Oslo at 13.20 by a temperature of 20ºC. On arrival, the players and staff were taken directly to Hotel Radisson Blu Plaza, where they will staying throughout their time in Norway. The second game of their preseason kicks off on Saturday at 19.00 in the Ullevaal Stadion, against Valerenga.
A number of FC Barcelona board members are travelling with the squad, including directors Jordi Moix, Joan Bladé and Josep Ramon Vidal-Abarca, plus director of football Andoni Zubizarreta.
Gerardo Martino to join them in Oslo
The new Barça manager will also be heading for the Norwegian capital. He'll be travelling after being officially presented in Barcelona on Friday. The Argentinian's trip to Oslo will be his first contact with his new charges, who he is due to coach for the next two seasons.
In the meantime, the team will be continuing with its training schedule in Norway. After arriving in Oslo, they have a training session this evening in the Bislett Stadion, a ground built in 1922 and reconstructed in 2005. That's behind closed doors and starts at 19.00. The players that featured for Spain and Brazil at the Confederations Cup have yet to return to duty, but the 12 available members of the first team and the 11 from Barça B are working on preparations for Saturday's friendly with Valerenga at 19.00.
Training routine
The team will be maintaining the same rhythm of training in Oslo as they have done in Barcelona. That means two sessions on Friday, one at the venue of the match, the Ullevaal Stadion, which will be open to the public, and the other behind closed doors in the evening, back at the Bislett Stadion.