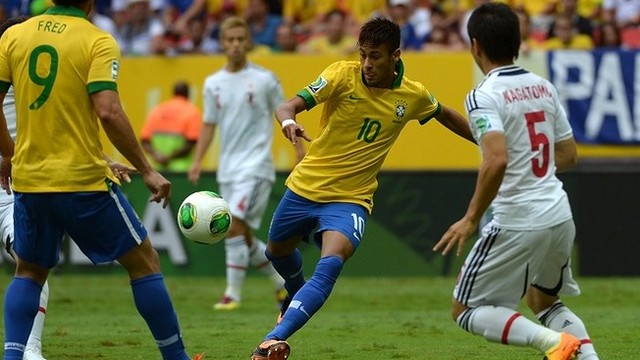 Brazil defeated Japan by 3-0 in the inaugural match of the Confederations Cup. Neymar scored a beautiful goal to open up the scoring

MATCH FACTS
Brazil, 3
Japan, 0
Brazil: Julio César, Dani Alves, Thiago Silva, David Luiz, Marcelo, Fred (Jo), Neymar (Lucas), Oscar, Luiz Gustavo, Paulinho and Hulk (Hernanes).
Japan: Kawashima, Honda (Inui), Nagamoto, Uchida, Endo (Hosogai), Kiyotake (Maeda), Okazaki, Kagawa, Konno, Hasebe and Yoshida.
Goals: 1-0, Neymar (min. 3); 2-0, Paulinho (min. 48); 3-0, Jo (min. 93).
Brazil took down Japan by 3-0 in the opening match of the Confederations Cup this evening. The Brazilians, who are favoured to win the competition along with Spain, sit atop of Group A with three points.
After only three minutes, Neymar took advantage of a pass from Fred to volley the ball into the back of the net. The goal sent the 70,000 spectators in Brasilia's Nations Stadium into a frenzy, and it brought the player out of his nine-game goalless streak with Brazil.
Neymar dazzles the fans
Neymar was very active throughout the whole match as he integrated perfectly in attack with Fred and Hulk. The Brazilian's repertoire of controls and dribbles delighted the fans in the stands until Scolari subbed him out for Lucas on 73 minutes.
Cross from Alves and goal from Paulinho
Dani Alves played his part in Brazil's second goal. At the start of the second half, the right back crossed the ball into the area and Paulinho sent it to the back of the net. The defender was solid in defence and he was quick to assist his team-mates when they went forward.
Barzil's next rival will be Mexico, on June 19 at 21.00.